120 militants leave Damascus suburb as Syrian Army regains full control – Russian military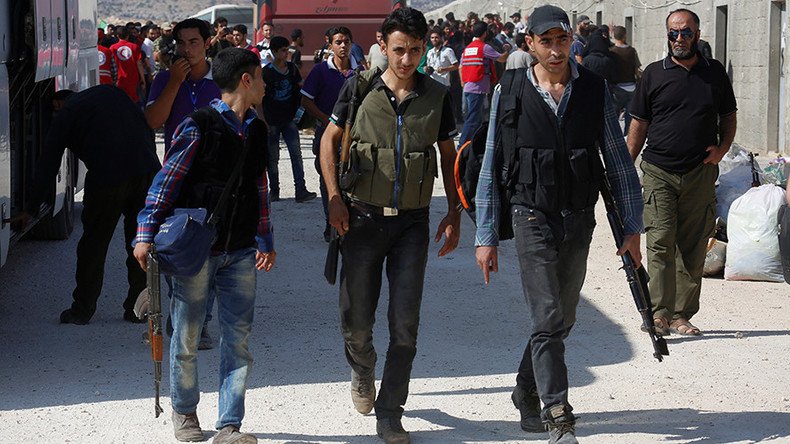 The Russian Defense Ministry has announced that 120 militants have voluntarily left the Damascus suburb of Darayya with their families. The reported departure comes shortly after Syrian state television announced that a four-year of siege of the area had drawn to a close.
"120 militants and their family members (230 persons in total) have left Darayya city of their own free will. They headed to Idlib ... on buses," the ministry said in a statement on its website.
The Defense Ministry also added that 265 civilians, purportedly mostly women, children and the elderly, had been taken to a settlement in the Damascus province.
On Saturday, Syrian state television claimed that a four-year siege of the area had been halted. The state broadcaster, as cited by AP, said that the Syrian Army had taken control of Darayya, while some 700 gunmen and 4,000 civilians had been evacuated.
Sappers from the Syrian Army have already moved into the southern Damascus suburb in order to try and clear the area of any mines.
"Engineer troops began clearing mines from buildings and streets in Darayya. The city is completely under control of the army. Tomorrow we may allow journalists in the city," a source told RIA Novosti.
Russian Foreign Minister Sergey Lavrov said that the successful end to the military operation in Darayya, which saw hundreds of militants put down their weapons, could lead to similar occurrences in other parts of Syria.
"In terms of Darayya, I heard that the operation to evacuate everyone who wanted to leave has come to an end," Lavrov said, as cited by TASS.
"This is an example, which I think will be used regularly… Our representatives in Hmeymim received a message that another region in Syria is interested in carrying out a similar operation with the help of Russia," he added.
The Syrian Army started an offensive in Darayya in February, stating that the Damascus suburb was almost completely under the control of Al-Nusra Front, as it was known at that time.
Darayya, which used to have a population of around 300,000 before the outbreak of the conflict, is just seven kilometres from the center of Damascus.
You can share this story on social media: