Rockets hit airport in Turkey's southeast (VIDEO)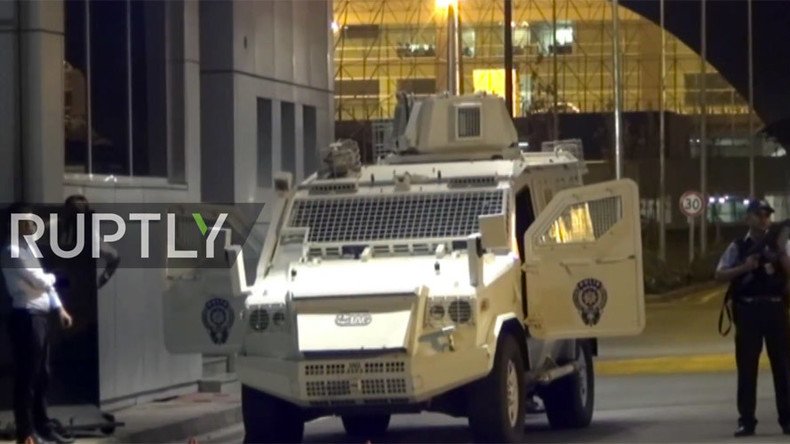 Passengers at Diyarbakir Airport, in the southeast Turkish province of the same name, on Saturday night sought shelter in a terminal building after an apparent rocket attack, local media report. The airport is used for both military and civilian purposes.
Four rockets were fired by suspected Kurdish militants, Dogan news agency said. A police checkpoint outside the VIP lounge was hit.

All the passengers and airport staff were reportedly moved inside the terminal building.
Meanwhile, another report by broadcaster NTV said the rockets hit an area of wasteland nearby.
There were no injuries or disruptions to flights due to the rocket attack in the city, Diyarbakir Governor Huseyin Aksoy told broadcaster NTV.
Diyarbakir is known as the unofficial capital of the Turkish Kurds. It has seen a significant amount of violence this year, following Ankara's offensive against the Kurdistan Workers Party (PKK) in the country's southeast.
The city's airport is a strategic spot that has often been the target of rockets.
The Turkish government offensive on the mostly Kurdish southeastern regions of the country was launched in July 2015, with strict 24-hour curfews imposed on several Kurdish towns.
READ MORE: 11 feared killed, scores injured as car bomb explodes at police HQ in Turkey's southeast
In another troubled southeastern city, Cizre in southeast Turkey, 11 people were killed and 78 more wounded when a bomb blast hit a police station on Friday. The blast was caused by a suicide truck attack carried out by the PKK, the local governor's office said in a statement.
Turkey on Wednesday sent its troops, tanks and jets into northern Syria ostensibly to take the town of Jarablus from Islamic State (IS, ISIS/ISIL). The Turkish operation, which backed Syrian rebels fighting IS, was not authorized by the Syrian government. Syrian Kurdish YPG command has denounced the offensive, claming that Turkey was targeting the Kurds "more than ISIS."
READ MORE: Turkish army shells Kurds 'refusing to retreat' near Jarablus – state media
You can share this story on social media: