Red Cross donates morgues in Yemen amid mounting civilian death toll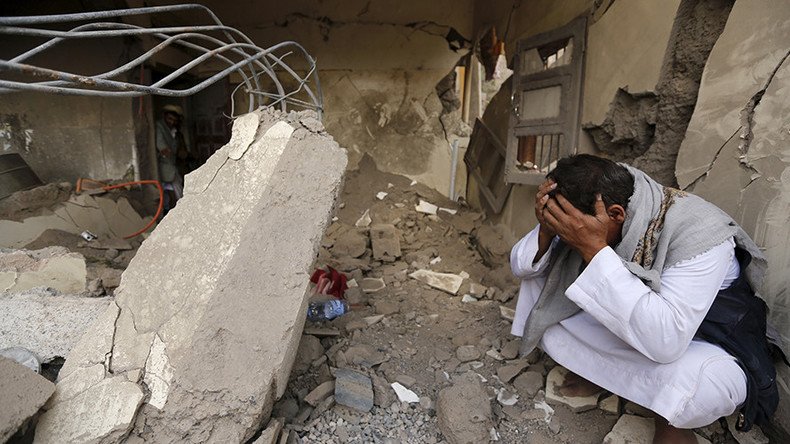 With the humanitarian situation in Yemen growing ever more gruesome amid the bombing campaign by Saudi-led coalition, the Red Cross tells RT it had to provide the country with morgues as it is unable to deal with the influx of the dead and the wounded.
READ MORE: Kick Saudi Arabia off UN human rights council for Yemen brutality, May told
"In many cases you had several bodies stuffed on one shelf, in one morgue unit, so the situation was not sustainable, the hospitals asked for our support, and we decided to donate morgues, which is something that we rarely do," Rima Kamal, Yemen-based spokeswoman for the Red Cross told RT, noting that it's not in the usual Red Cross practice to deal with morgues, as their field of work mostly focuses on providing food, water and healthcare.
Kamal says that civilians have been suffering most acutely in the conflict, making up two thirds of those killed since the airstrikes began. In the most recent development, an airstrike by the Saudi-led coalition reportedly resulted in civilian deaths on Friday night. 11 people were killed in an attack on the city of Saada, known as the stronghold of anti-government Houthi rebels.
"You have to look at how civilians are coping – they are the ones paying the heaviest price in this conflict. Two-thirds of deaths in this conflict have been civilians, a lot of children have also been impacted. They have lost their lives, they have lost limbs – if you look at the total number of people injured you have about 35,000 out of which 6,000 have lost limbs, became disabled for life," Kamal notes, adding that whoever started the conflict, its price is being paid by ordinary people.
"Even when this conflict comes to an end, these people cannot go on with their lives. Their lives will never be the same. This is the price of conflict – people are struggling on so many levels, they can't find food, water, safe shelter, they've lost their income and lost their home, it is very sad to see."
A UN report published on Thursday stated that almost 3,800 civilians have been killed since the Saudi-led airstrikes began, while more than 6,500 people have been injured. More than 3.1 million Yemenis have been displaced since the civil war broke out in March 2015, and over 80 percent of the country's population (21 million people) are in urgent need of humanitarian assistance.
"A lot of the fighting, a lot of the airstrikes, are taking place in densely populated areas," Kamal says, explaining the numbers of civilian casualties, stating that a high death toll is what one gets "when warfare is being waged in urban settings."
She says, however, that those who have to deal with these casualties on the ground in Yemen don't have the means to facilitate so many dead and wounded.
"The casualty [numbers] vary. On days when you have a lot of airstrikes, a lot of ground fighting, a lot of shelling, of course, you do have a spike of civilian casualties. On certain days you can have up to 20 dead people that come into a single hospital […]
"Most hospitals are not equipped to handle that number of dead or wounded. The morgue capacity and a lot of hospitals [are] overstretched and unable to deal with the influx of people both killed and wounded.
"On top of that there are severe shortages of medical supplies. A lot of the times the patient dies before the doctor's very eyes while the doctor has the capacity to save the patient but does not have the means [to do it]."
Following the publication of the UN report on the situation in Yemen, UN High Commissioner for Human Rights Zeid Ra'ad Al Hussein called for an investigation into mass violations of human rights in the country.
Seven in 10 Yemenis need emergency food supplies, according to the Famine Early Warning Systems Network, an agency funded by the US Agency for International Development (USAID).
Kamal says that while the Red Cross cannot confirm reports on starvation, the overall humanitarian situation in Yemen is monstrous.
"The overall humanitarian situation is nothing short of catastrophic. We are unable to confirm reports of starvation [but] in certain areas you have no power, no water, civilians have to struggle to find food, to find basic necessities that many of us take for granted. Their life is a daily struggle and it's not receiving the attention it needs to receive," she urges, noting that while the organization is in constant dialogue with the fighting parties, they cannot draw enough attention to the suffering of Yemeni people.
"We do have a dialogue with the Saudi-led coalition as well as the other [local] parties to this conflict. We believe that all parties should exert more effort to protect the civilian population. At the end of the day it doesn't matter who did what, what matters is that these violations must stop immediately and civilians must be protected," Kamal said.
You can share this story on social media: