Colombia & FARC shake on historic peace deal after 52 years of CIA-funded war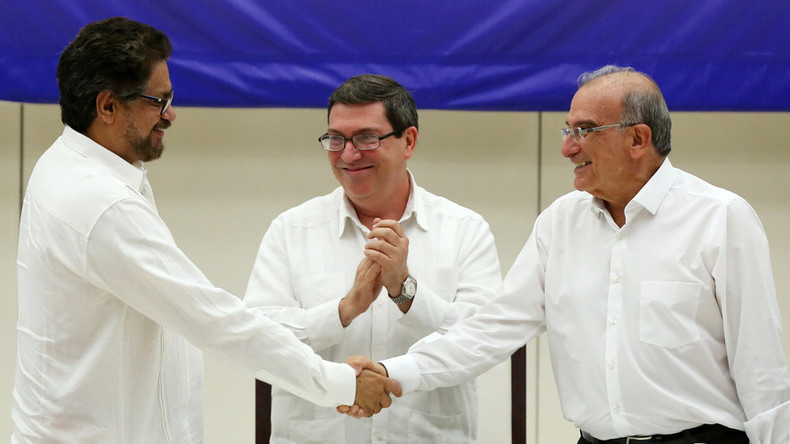 The CIA may need to find another enemy in Colombia now that the South American country's government has reached a historic peace deal with the 'People's Army' known as FARC.
Negotiators from both sides shook hands on Wednesday in Cuba, ending a 52-year conflict funded by the US government.
The announcement was met with celebration in Colombia.
Former Colombian Vice President Humberto de la Calle and FARC negotiator Ivan Márquez signed the agreement in the presence of Cuban Foreign Minister Bruno Rodriguez.
Colombian President Juan Manuel Santos announced the agreement must now be approved by the people of Colombia during a referendum scheduled for October 2.
The deal will see the FARC group transform from armed guerilla fighters to a legal political party, like many rebel movements before them across the globe.
"We have won the most beautiful of all battles, peace for Colombia. The battle with weapons ends and the battle of ideas begins." Márquez said.
FARC, which was listed by the US and the EU as a terrorist organization, was pursued by America's intelligence community, with political assassinations being carried out by the CIA.
Inspired by the Cuban revolution and founded in 1964, FARC included small farmers and landowners suffering from inequality who wanted to overthrow the US-backed Colombian government with Marxist leaders.
An estimated 20,000 active fighters were members of FARC earlier this century, but that is down to what is thought to be 6,000 to 7,000.
The decrease is credited to a security policy introduced in 2003 by then-President Álvaro Uribe in which the government worked to take back territory lost to FARC.
Perhaps the biggest turning point came in 2008 when 15 hostages held by FARC were rescued by three US military contractors and Colombian soldiers disguised as rebels, freeing among others former presidential candidate Íngrid Betancourt, who had been held for six and a half years.
Former US President George W Bush authorized secret assistance to Colombia to fight FARC, according to the Washington Post, which is not part of the public $9 billion aid package.
The assistance is said to include eavesdropping equipment from the National Security Agency along with a GPS guidance kit for precision bombing of targets.