Karachi's mayor-elect to run city 'via video link from prison'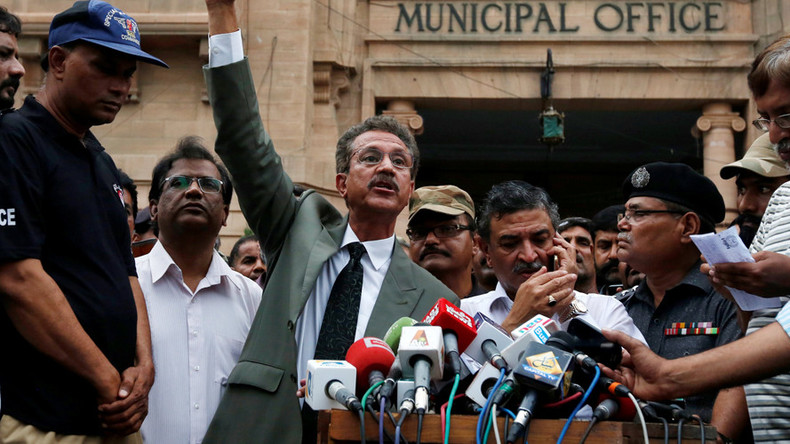 Waseem Akhtar, the mayor-elect of Karachi, has promised to run Pakistan's biggest and richest city from his prison cell via a "video link," according to his lawyer. Akhtar was detained last month on suspicion of aiding alleged militants.
Akhtar is a member of Muttahida Qaumi Movement (MQM), which has ruled the port city of Karachi for decades.
Authorities do not expect to release Akhtar before August 30, when he is scheduled to take his oath. Thus, Akhtar's plan is to run the city from prison, with prison guards arranging all his visits.
"He will open an office in jail and via video link he will conduct council sessions," Reuters quoted Akhtar's lawyer, Mahfooz Yar Khan, as saying. "He can run Karachi via video link for five years."
MQM has reportedly asked the prison to make sure Akhtar has a "well-furnished office" during his time in prison as well as have police escorts for meetings outside the jail.
Earlier on Wednesday, Akhtar was transported in an armored police vehicle to the Karachi Metropolitan Corporation building, where he voted.
"Thank you Karachi, which has gone through this election in such difficult times," Akhtar said after he voted. "It will go down in history that such an election has never before taken place in Pakistan."
On Wednesday, Akhtar also expressed the desire for compromise. "It's enough, we have fought enough and enough blood has been spilt, we need to stop that . . . I am not a mayor of MQM. I will work for Karachi, I am Karachi's mayor," he said on Wednesday.
Moreover, senior Karachi-based members of the MQM promised earlier this week to limit the influence of their London-based leader, Altaf Hussain, who, in the most recent controversy, urged supporters to storm the office of a private TV broadcaster in Karachi on Monday. The attack left one person dead and another five injured.
Meanwhile, tensions in the city have soared amid a crackdown by the security forces of the MQM. Many officials from the Akhtar's political party have been detained by the paramilitary forces in the last few months on suspicion of racketeering and violent crime.
Karachi is home to 20 million people as well as a bustling stock exchange and central bank. The city represents great gains for all political parties, security forces, criminals and militants, who have been vying for more power.
Akhtar, himself, was arrested in July, accused of aiding alleged militants by providing them with shelter and medical services. If convicted, Akhtar might not be released from prison for several years.
Pakistan's security forces have detained a large number of MQM members in 2015 on suspicion of torture, murder and racketeering. However, MQM denies the changers laid against it, adding that it doesn't have any connection to the crime syndicate. Instead, MQM has claimed that the nation's paramilitary forces have carried out a series of extra-judicial killings of its members.
MQM was founded in 1984 by Altaf Hussain to represent "muhajirs," Urdu-speaking Muslim immigrants from the territory of the modern India.
The party's portrayal has been tainted with controversy over the accusations of violence linked to racketeering, drug trafficking, land theft, thrown at it by local residents and political opponents alike.
Since 2006, the MQM is banned in Canada, where it is regarded a terrorist organization, with the federal court accusing it of harassing political opponents and using crime-related money to fund the party.