Italy mourns quake victims as death toll climbs to 247 (PHOTOS)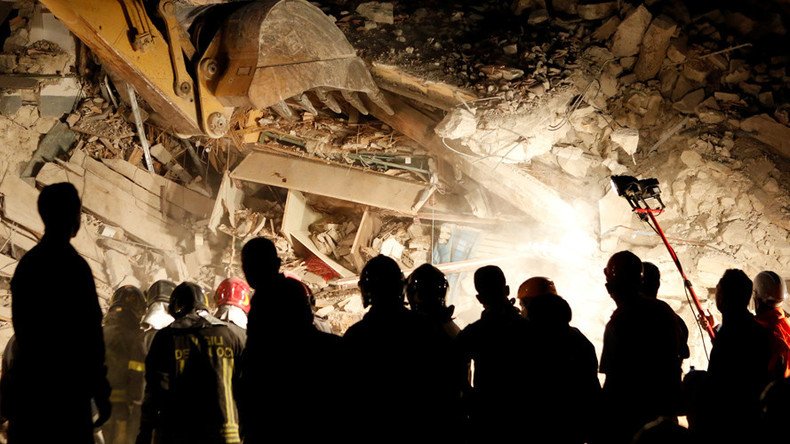 Rescuers continued to search for survivors in central Italian towns devastated by a 6.2-magnitude earthquake as the number of victims rose to 247 on Thursday morning. Accounts of lucky escapes and tragedies have emerged as communities struggle to cope with the aftermath.
Italy's earthquake death toll has climbed to 247, local wire service ANSA quoted regional officials as saying.
Meanwhile, the European-Mediterranean Seismological Centre (EMSC) reported yet another 4.6-magnitude earthquake hit central Italy, some 66 km northeast from the town of Terni, with a population of over 220,000 people. It was the 22nd quake in the region in less than 24 hours.
The dramatic rescue operation continued overnight into the early hours of Thursday as scores of people are still believed trapped under the rubble. Thousands have been left homeless.
At least 86 victims come from the small towns of Amatrice and Accumoli that lie close to the epicenter of the quake, about 100 km from Rome.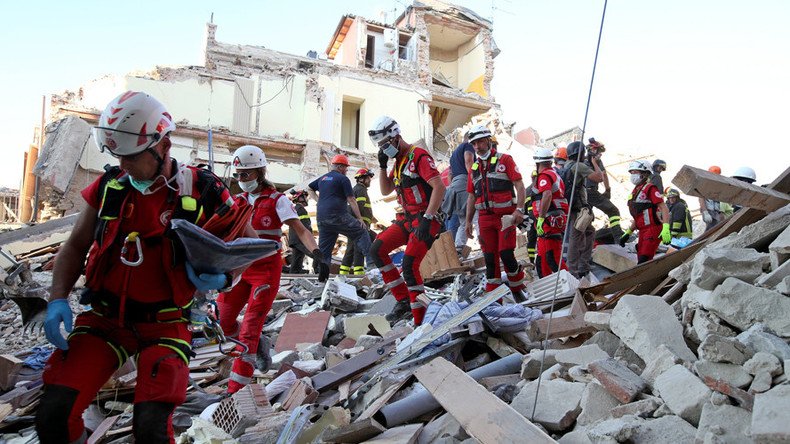 The ancient town of Amatrice, where an annual food festival celebrating the town's customary spaghetti that typically lures thousands of tourists was to take place in three days, was reduced to rubble with three-quarters of the buildings demolished by the quake.

Some 70 guests were checked into the collapsed Hotel Roma as they arrived in the town for the occasion. Five bodies, including that of an 11-year-old child, were removed from under debris before the rescue effort at the hotel was halted out of safety concerns. Dozens of guests are believed to be trapped.
"It's all young people here, it's holiday season, the town festival was to have been held the day after tomorrow, so lots of people came for that," a local resident told Reuters.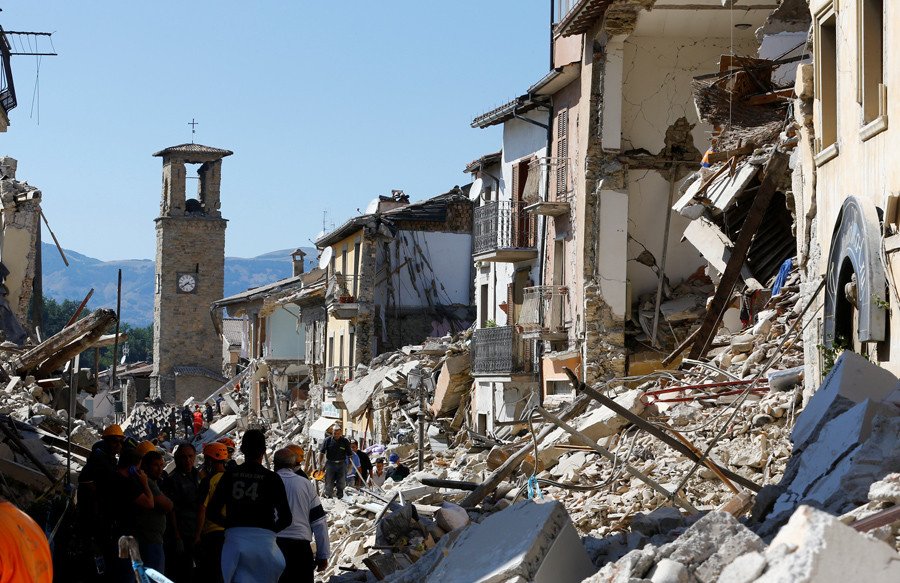 The rescue units have been joined by hundreds of volunteers who are trying to pull out survivors.

However, the hopes of finding survivors have been diminishing with every hour.

"Unfortunately, 90 percent of those we pull out are dead, but some make it, that's why we are here," Christian Bianchetti, a volunteer in Amatrice, told AP.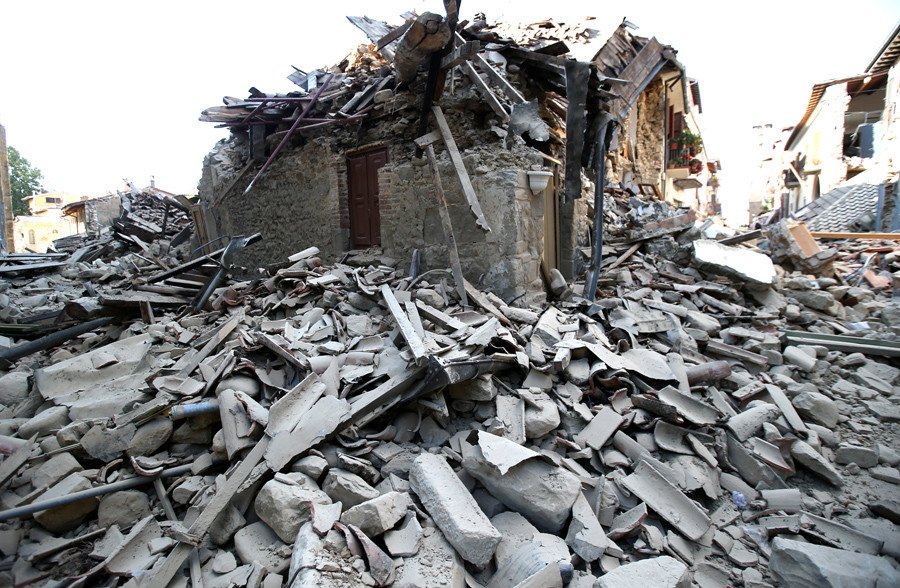 Italian Prime Minister Matteo Renzi called on his fellow citizens to unite in the face of the tragedy, as he visited the most heavily stricken area.

"We Italians are very good at arguing and being polemical, but now let's stand in solidarity and pride alongside those who are rescuing others," Renzi was cited as saying.
In the wake of the disaster, Amatrice Mayor Sergio Pirozzi said that the town "wasn't there anymore."
Tents have been erected for hundreds of the now homeless residents, which will serve as temporary shelters.
"Tonight will be our first nightmare night," local resident Alessandro Gabrielli told Reuters.
''It was one of the most beautiful towns of Italy and now there's nothing left. I don't know what we'll do,'' another victim told AP.
Next to the distress and mourning for whole communities, the successful rescues are rare moments of joy that instill hope into people.
''She's alive!'' two women cried after a 10-year-old girl, who had been trapped under the ruins for 17 hours, was rescued.
Many of the casualties from the quake are believed to be children, Health Minister Beatrice Lorenzin said after visiting the area.
Renzi vowed to take every effort to rebuild the destroyed areas, saying that "their history, which has been so great, can't finish here," as cited by RT's Ruptly video agency.
"Our credibility and honor depends on a real reconstruction that would prevent the inhabitants of these municipalities from leaving, to allow these beautiful places to start over," Renzi said.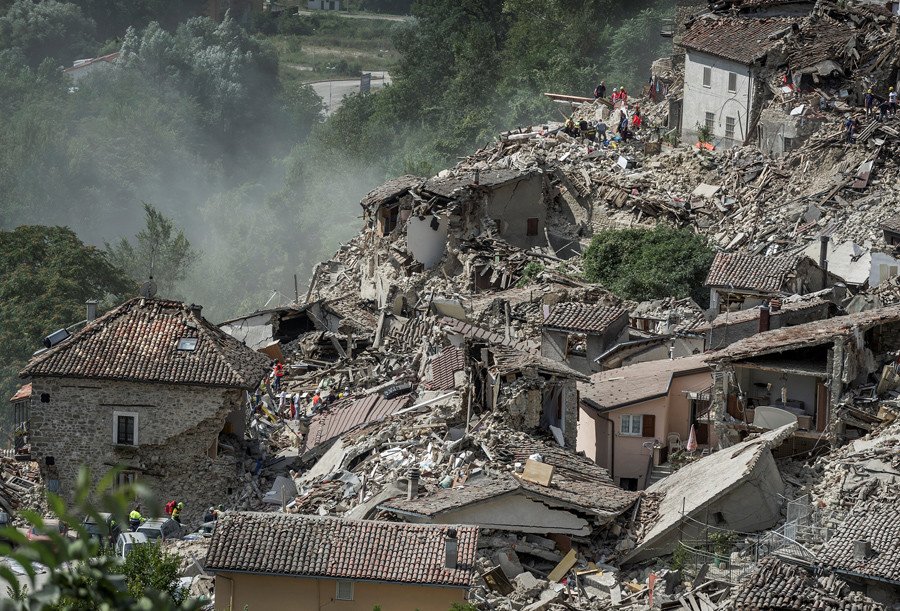 Messages of condolences and support have been pouring in from all over the world.
Pope Francis ordered a small group of Vatican firefighters to Italy to assist local rescues, and canceled his weekly audience to conduct a prayer service dedicated to the victims of the calamity.
The Pope said: "I cannot fail to express my heartfelt sorrow and my closeness" to everyone in the earthquake zone, especially those who lost loved ones and "those who are still shaken by fear and terror."
US President Barack Obama also expressed his condolences in a phone conversion with his Italian counterpart Sergio Mattarella, and applauded the "quick action" in disaster relief efforts taken by Italy's rescue services.
German Chancellor Angela Merkel called the scope of devastation "shocking" and offered "the deep sympathy of the German people" to the victims in a message to Renzi.
French leader Francois Hollande echoed Merkel's statement, describing the quake as a "terrible tragedy" on Wednesday.
Britain's Queen Elizabeth II joined the choir of European leaders in a message of sympathy sent to President Matarella.
"Prince Philip and I were saddened to hear of the loss of life following the earthquake in central Italy. Our thoughts and prayers are with the people of Italy, especially the family and friends of those affected," the message read.
Russian President Vladimir Putin assured Renzi that Russia is ready to "provide all necessary assistance in relief of the consequences of this natural calamity," offering his condolences to relatives of the victims in a telegram.
You can share this story on social media: