Bankrupt man with 'explosive device' surrendered after taking hostages at Moscow bank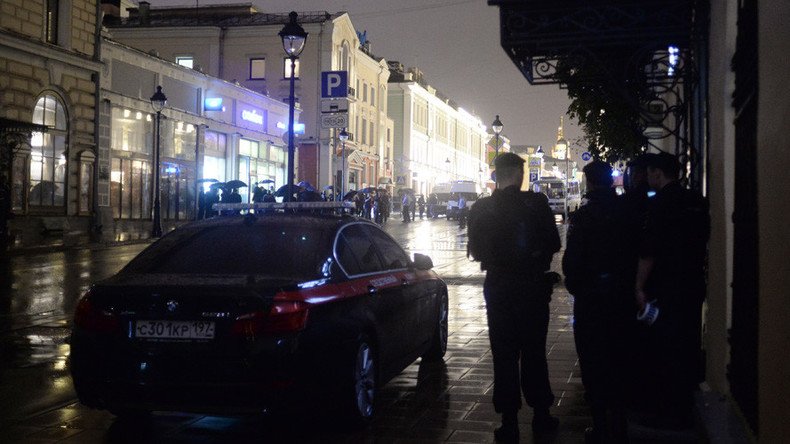 A man who earlier took several people hostage at a bank in downtown Moscow, released all the hostages and surrendered to police, local media report. An explosive device that he had turned out to be a replica.
The incident took place at a Citibank office on Bolshaya Nikitskaya Street, according to TASS.
Three of the bank's staff members and one customer were inside the building, where the man was threatening to blow himself up, TASS reported, citing the Interior Ministry.
According to some media reports, the man first took seven people hostage but then let three women go, one after another.
Other media outlets say the man initially took five people hostage but then released three women.
Police identified the man involved in the hostage siege.
Earlier Wednesday, the hostage taker, who turned out to be a bankrupt businessman, recorded a video, in which he warned that he was planning to break the law, and posted it on social media. In his video address he tried to draw attention to his case and said that bankruptcy should be regarded as a disease. He also called for the establishment of a special "rehabilitation center" for bankrupt businessmen.
A negotiator entered the office and a number of high-ranking police officials also arrived at the scene. Moscow Police Commissioner Anatoly Yakunin personally entered into negotiations with the hostage-taker, TASS reported, citing a police source.
A Rapid Deployment Police Task Force detachment, Russian National Guard units and Federal Security Service (FSB) officers were deployed to the scene.
The area around the bank office was blocked by police.
The man entered the bank office and "put up a poster saying he was demanding a negotiator." He then asked to call the police, bank employees who managed to escape from the building told TASS.
They added that the man threatened to set off an explosive device, and that he said he had nothing against the bank itself.
Citibank "is working with the law enforcement authorities to resolve the situation" at the office "as soon as possible," a spokesperson for the bank told TASS, confirming the incident.
At about 10 p.m. Moscow time (1900 GMT) on Wednesday, the hostage-taker released the last hostage and surrendered to police. The explosive device he had turned out to be a replica, local media report.
The deputy editor-in-chief of the TASS news agency was one of the hostages taken by the bankrupt businessman in the Moscow bank, TASS reported.
You can share this story on social media: