Gunman shot dead after taking 6 hostage in Moscow bank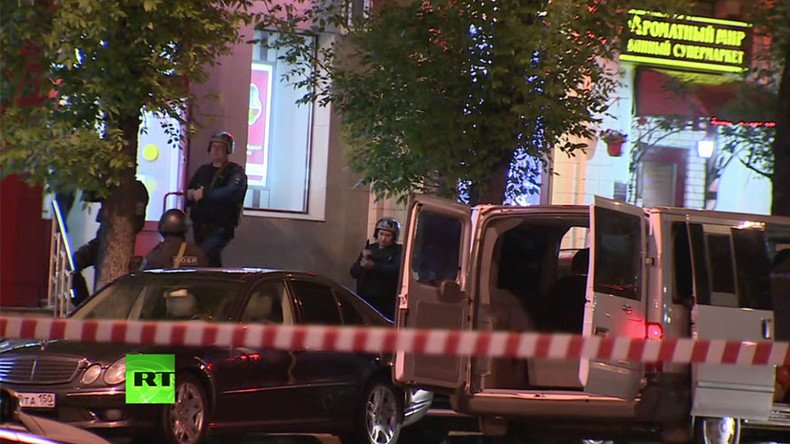 A special police unit shot an armed robber who had taken six people hostage in a bank branch in eastern Moscow dead. None of the captives were hurt.
An RT live feed shows a group of armed special forces members bursting through the front door, before several shots ring out.
"The suspect attempted to activate a homemade explosive device, as the assault team entered the building," said a Moscow police spokesperson.
A box with wires sticking out of it was found on his body. The suspect claimed he had a bomb during negotiations with police.
The five-story apartment building in which the bank is located was evacuated.
The device turned out to be a dummy with no explosives, a source in law enforcement told TASS.
At the time of the final confrontation, five of the hostages had already been released by the gunman, but a single woman still remained.
Police sources told Interfax news agency earlier that the man had entered the branch of Moscow Credit Bank at 8:40 pm on Wednesday evening, holding what appeared to be a pistol or a convincing replica. He then instructed the cashiers to empty the cash vaults.
The staff pressed the panic button, at which point the gunman barricaded himself inside one of the offices, while four clients and two staff members remained inside.
The hostage taker then relayed a message to police saying that they would not be set free until he was given the money inside the branch.
"He was in his 20s, and seemed in control. He didn't say much other than his demands, and later he let us go voluntarily," one of the hostages told Life News.
You can share this story on social media: