'We are Catholics here': Burkini ban issues reaching boiling point in France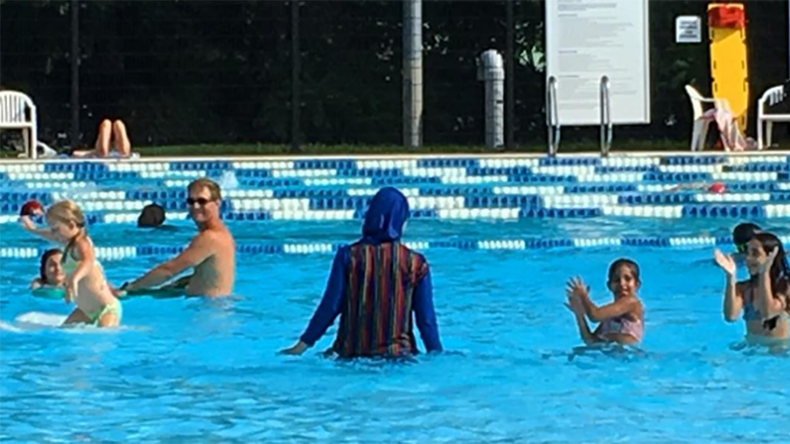 Tensions are running high on the beaches of French towns introducing the controversial burkini ban. Public reaction seems utterly divided, with some accusing police of using "Nazi" tactics, while others support the move, shouting "We are Catholics here."
Thirty-four-year-old Siam said she was asked to pay a fine or leave La Bocca beach in Cannes for wearing a headscarf in August, L'Obs magazine reported, but the news only appeared in the media on Tuesday.
The woman said she was wearing leggings, a tunic, and a hijab, explaining "I wasn't planning to swim… I wasn't there to provoke anyone."
READ MORE: Burqinis banned from Cannes beaches for showing 'allegiance to terrorists' – French official
Siam, who is originally from Toulouse, told the magazine that she was approached by three police officers who told her to remove her veil or face a fine. One of them appeared to have something resembling pepper spray.
The police officers cited the text of an order that states that people should have "correct clothing, respecting secularism, hygiene rules and security" on Cannes beaches, before asking her to remove her scarf or pay an €11 fine.
She chose to pay.
According to Siam, many beachgoers supported the officers and some went as far as applauding them.
"Racist terms were used freely… I was stunned," she said, adding "I heard things which no one had ever said to me, like 'Go home!' 'Madam, the law is the law, we're tired of the stories' and 'We're Catholics here!'"
The Muslim woman said she felt totally humiliated.
"My children were crying, witnessing my humiliation and my family… Even I could not help crying. They humiliated us," said Siam.
Cannes Mayor David Lisnard said he had "no reason to doubt the judgment of police officers."
Siam, a French national, said that the phrase "Go home" was especially offensive to her.
"The worst part is that I was born in France! My parents are French, my grandparents are French... When they told me 'Go home,' it makes me sick; it's really racist ..."
Nazi method to fight burkini? Twitter angry after woman forced to remove Muslim swimwear in Nice
Social media are completely furious about photos that emerged online showing a Muslim woman on a Nice beach surrounded by several police officers calling on her to immediately remove her burkini.
The incident reportedly took place in Nice Promenade des Anglais in July, when a truck driven by an IS sympathizer plowed through a crowd during Bastille Day celebrations. The tragedy killed at least 84 people.
The woman is pictured lying on the beach in a blue-and-black burkini. In other pictures she is seen surrounded by at least four police officers who are saying something to her.
The woman is later seen removing her long-sleeved top and one of the officers is allegedly seen writing a ticket. The woman apparently has to pay €38 – the fine for wearing a burkini set by French authorities.
The photos, which have been circulating in social media since Tuesday evening, have already attracted numerous angry comments.
Some slammed the "liberal approach" of the French authorities towards Muslim women.
"Is this what being liberal looks like? Men forcing women to take clothes off?" wrote @aishagani.
Others accused the police of subjecting the woman to "public humiliation."
"Is this public humiliation on a French beach supposed to protect the [French] Republic?" @ Pierrehaski wrote.
"I do not like burkini but I hate humiliation towards this woman. A total shame," added another user.
"So a woman who in veil has no more rights to be lying on a French beach?" asked @Coexister75.
The burkini issue has recently become the topic of the day. One after another, more than a dozen French cities have banned it, including Cannes and several towns near Calais.
On Monday, a tribunal in Nice rejected an appeal filed by two human rights groups, ruling that the ban in the French Riviera town of Villeneuve-Loubet was "necessary, appropriate and proportionate."
The burkini was "liable to offend the religious convictions or [religious] non-convictions of other users of the beach," and "be felt as defiance or a provocation exacerbating tensions felt by" the town, the tribunal concluded in its statement.
You can share this story on social media: