Turkey, Ankara-backed rebels launch op to retake Syrian town from ISIS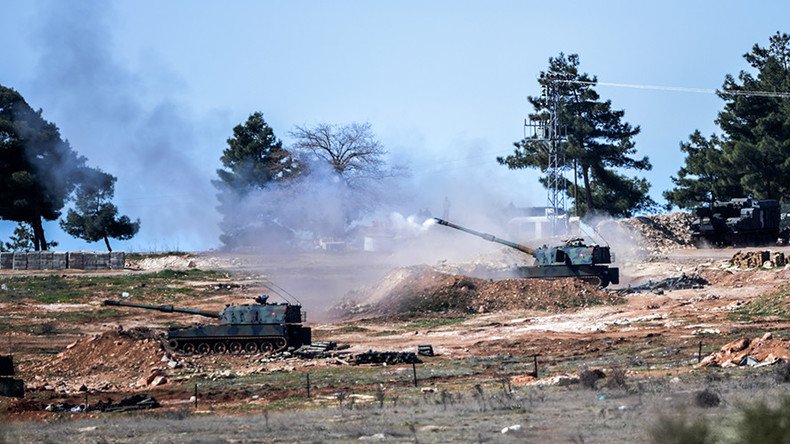 Ankara has begun a military operation with the aim of retaking the Syrian town of Jarablus from the hands of the Islamic State (IS, ISIS/ISIL), state-run press agency Anadolu Agency reported. The Turkish army is reportedly backing Islamist rebels fighting IS.
The Turkish prime minister's office confirmed the launch of an anti-Islamic State (IS, formerly ISIS/ISIL) operation on Wednesday morning in a statement saying that the Turkish military and US-led coalition air forces aim to clear areas around Jarablus of militants.
Turkish military employed intense artillery fire against Islamic State fighters in Jarabulus, officials told the Turkish media.
The operation is receiving air support. The Turkish air force has hit IS targets in northern Syria, according to Anadolu. So far four strikes have been carried out against Islamic State targets.
At least 63 Islamic State targets were hit by 224 strikes from heavy artillery and multiple-launch rocket systems (MRLS) during the initial phase of Turkey's military operation, according to CNN Turk.
Meanwhile, 70 IS targets were said to have been destroyed by cross-border tank fire, according to media reports.
In apparent retaliation, Islamic State militants fired mortar shells into the Turkish border town of Karkamis, but they landed in an empty field, with no damages reported, according to military sources cited by Reuters.
"Operation in Jarabulus aims to prevent new flows of migration, deliver aid to civilians, clear area of terrorist elements," the news agency tweeted.
The operation to re-take Jarablus may take two weeks, local broadcaster NTV reported citing military sources.
The military advance began at around 4 a.m. local time.
Turkish special forces have crossed the border into northern Syria, but the ground operation is yet to begin, Reuters quoted a senior Turkish official and military sources as saying. Turkish warplanes along with US-led coalition aircraft are still working on opening up a safe passage for the troops.
Turkish tanks have arrived at the Syrian border and were firing on targets on the other side, but have not crossed it so far, Cumhuriyet newspaper reported on Wednesday morning. Additional armored vehicles are expected to arrive shortly, which may indicate that preparations are being made for a ground invasion.
Two Turkish F-16s are currently airborne over the border area waiting for the green-light to hit Islamic State positions in northern Syria, Reuters reported, citing a military source. At the same time, Washington said it will provide aerial support for the Turkish operation, promising "synchronization" with Ankara.
Turkey-backed militants set to race US-supported Kurds for ISIS-held Syrian town
"The aim of the operation is to ensure border security and Syria's territorial integrity while supporting the US-led coalition against Islamic State," a military source said.
In the meantime, Turkish counter-terror police conducted raids targeting alleged Islamic State fugitives in the Asian area of Istanbul on Wednesday, Dogan news agency said. The police raids reportedly began almost simultaneously with the military operation in northern Syria.
The decision to move in on Jarabulus is said to have come after a number of mortar bombs hit a residential Turkish area near the Syrian border on Tuesday morning.
But other reports have pointed to the fact that it comes at a time when a US-backed alliance of Kurdish and Arab fighters is also making a push toward the border town.
The Kurdish-led force has taken full control of nearby Manbij by driving IS militants out of the city, which was used by terrorists to smuggle weapons and goods.
Ankara has been concerned over the autonomy of Kurds in Syria as Kurdish People's Protection Units (YPG) of the Democratic Union Party of Syria (PYD), with the help of American-led airstrikes, continue to capture vast swathes of territory in northern Syria, which borders Kurdish-dominated southeast Turkey, where Ankara has engaged the Kurdistan Workers' Party (PKK) in a brutal military campaign for over a year.
Commenting on the operation, Saleh Muslim, head of the Syrian Kurdish Democratic Union Party (PYD), reportedly wrote on his Twitter that Turkish forces will face inevitable defeat, according to Reuters. "Turkey is in Syrian quagmire. Will be defeated as Daesh [Arabic name for IS]," Muslim tweeted in Turkish, Arabic and English.
Turkey has repeatedly stressed that it would not tolerate Kurds staying west of the Euphrates River, with YPG-PYD advances in northern Syria remaining the key security issue for Ankara. The Turkish government has labeled both groups as terrorist organizations, despite their fierce efforts in fighting Islamic State.
You can share this story on social media: