Turkey shells ISIS & Kurdish positions in Syria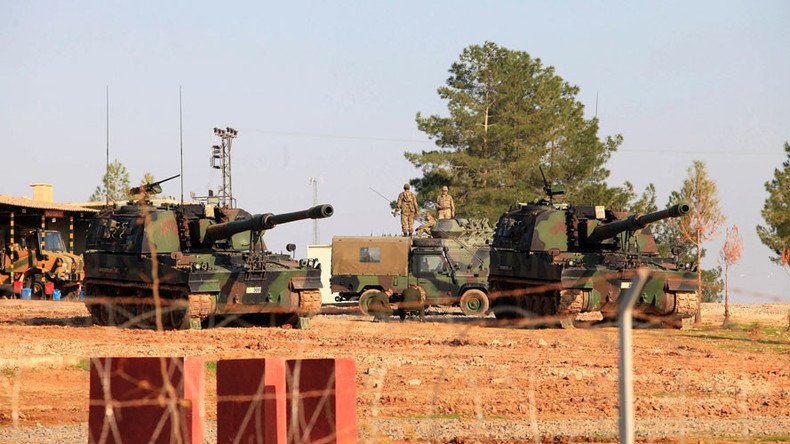 The Turkish army has delivered artillery strikes on Kurdish positions near Manbij and on Islamic State targets in Jarablus in northern Syria, media report. The assault came after several stray shells struck inside Turkish border territory on Tuesday.
Turkish howitzers fired about 20 rounds across the Syrian border on Monday, targeting Kurdish-held Manbij, Reuters reports, citing an unnamed Turkish official who also confirmed that the shelling of Jarablus, which is held by Islamic State (IS, formerly ISIS/ISIL, also Daesh), is continuing.
"The Turkish state officially supports Daesh and bombs the positions of the Manbij military council and its countryside in the northern axis of the defense positions at Sajur river," Sharvan Darwish, a spokesperson for the Kurdish-Arab Syrian Democratic Forces (SDF), said on Monday, ARA News reported. The SDF forces are backed by the US-led coalition.
Kurdish NRT TV also reported that both the positions of SDF forces north of Manbij and Manbij Military Council (MMC) fighters in the area had been shelled by the Turkish army.
Ankara also shelled IS targets in northern Syria after the Turkish border town of Karkamis in the southeastern province of Gaziantep was hit by two stray shells on Tuesday, broadcaster NTV said, citing the military. No casualties were reported.
Karkamis neighbors the Syrian town of Jarablus, where Turkish-backed Syrian rebels are preparing for an offensive to take it from Islamic State, Reuters cited a senior rebel official as saying. As a member of NATO and the US-led coalition, Turkey provides support for Syrian rebels fighting IS.
Later on Tuesday, three rocket shells hit the Turkish border town of Kilis, and the Turkish military fired back in retaliation, broadcaster NTV reported, citing the Turkish armed forces. Kilis is about 80 kilometers (50 miles) west of Karkamis.
The latest artillery strikes also come after a major terrorist attack on Sunday in Gaziantep, Turkey, where a Kurdish wedding ceremony was blown up by a suicide bomber, killing 54 people, including 22 children.
"Daesh (ISIS) should be completely cleansed from our borders and we are ready to do what it takes for that," said Foreign Minister Mevlut Cavusoglu at a news conference in Ankara on Monday. The minister said that the terrorist attack had been carried out in response to Ankara's effort to close 800 kilometers of the Turkish-Syrian border to prevent militants from infiltrating Syria to join extremist forces.
Turkey has become the "number one target" for the jihadists, Cavusoglu said.
Turkey's Prime Minister Binali Yilidirm promised that Ankara would take a more active role in Syria to prevent the division of the war-torn country along ethnic lines, Reuters reported
On Saturday, PM Yilidirm told the media that Ankara is ready to accept that Syrian President Bashar Assad may be part of a transitional period in the country, but still insisted that he has no place in Syria's future.
"We may sit and talk (with Assad) for the transition. A transition may be facilitated. But we believe that there should be no (Kurdish rebels), Daesh [IS, formerly ISIS/ISIL] or Assad in Syria's future," Binali Yildirim told foreign media representatives in Istanbul on Saturday, according to AP.
You can share this story on social media: