At least 120 dead as shallow 6.2 quake shakes Rome, devastates towns in central Italy
A powerful 6.2-magnitude earthquake followed by a series of aftershocks has rocked central Italy. Strong tremors were felt in the country's capital, Rome, and several small towns and villages have been seriously damaged with over a hundred killed and hundreds injured.
Prime Minister Matteo Renzi said on Wednesday evening that at least 120 people are dead as a result.
The quake hit at 01:36 GMT with an epicenter 76 kilometers southeast of the city of Perugia, the US Geological Survey reported.
The town of Norcia, home to some 5,000 residents, lies just 10km southeast of the quake's epicenter, according to US Geological Survey (USGS). The ancient Italian city of Spoleto in the Perugia province with some 40,000 residents is located 35km east of the quake.
The earthquake hit 126km north of Rome, the largest and most populous city of the region with 2.6 million people.
Preliminary 6.3 magnitude quake in central Italy. Citizens in Rome & Venice felt it. 2.7 million people within 75 miles of the epicenter.

— WeatherBug (@WeatherBug) August 24, 2016
The shaking appears to have woken up quite a few residents in central Italy. Besides Rome, aftershocks were also felt in Florence.
READ MORE: 'Like L'Aquila quake': 6.2 earthquake hits central Italy LIVE UPDATES
Jenny Parkinson, a Rome resident, wrote on Twitter the building she was inside "swayed for what seemed an age – bed rocking, lightshades swinging. Horrid!"
It was felt in central #Rome, as people homes in the historic center felt a long swaying.

— Carlos Suarez (@CarlosWPLG) August 24, 2016
The tremors lasted for about 20-30 seconds, eyewitnesses say.
A series of strong aftershocks followed the initial quake, with one of them having an estimated magnitude of at least 5.4.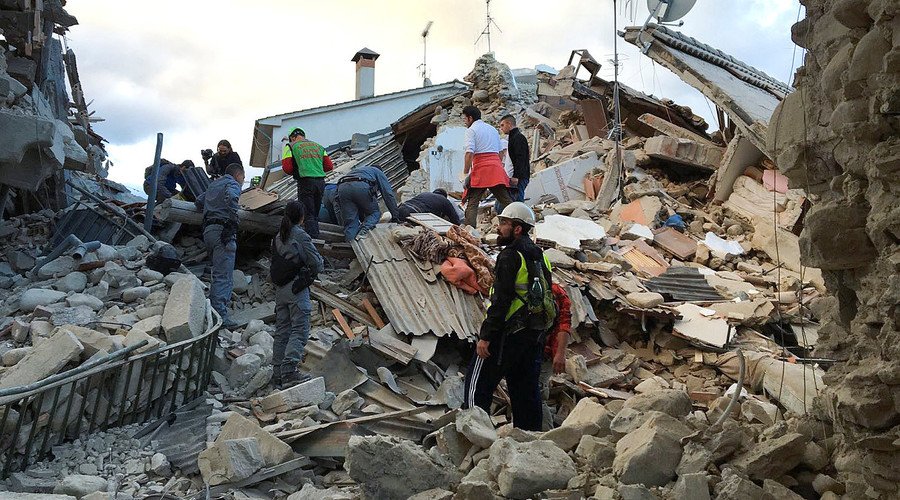 The Italian army has been mobilized to aid earthquake-affected areas, the Italian Defense Ministry wrote on Twitter.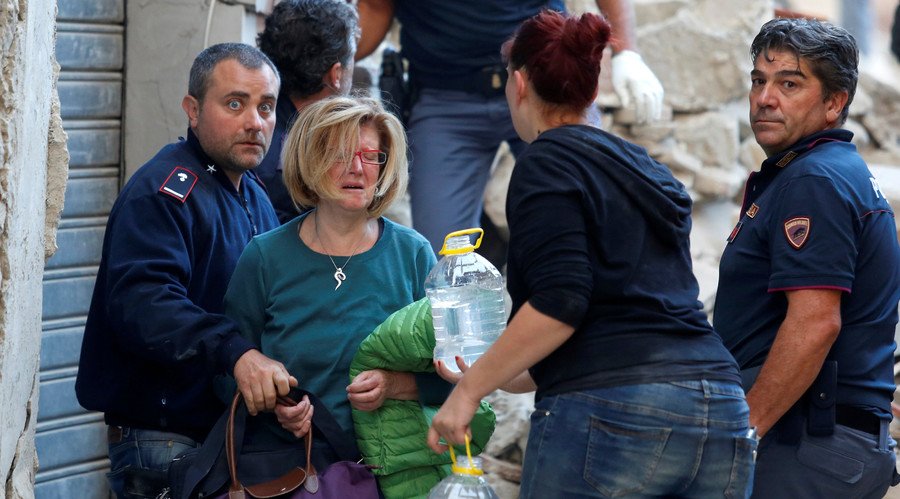 People have reportedly run in panic into the streets in central Umbria and Le Marche regions, according to RAI radio, cited by AFP.
The Italian authorities are monitoring the situation and have been in contact with the Civil Protection Agency, the prime minister's spokesman said on Twitter.
Il Capo Dipartimento della Protezione Civile Ing. Fabrizio Curcio ha riunito il Comitato Operativo della Protezione Civile #terremoto

— Palazzo_Chigi (@Palazzo_Chigi) August 24, 2016
'Town doesn't exist anymore'
Caterpillar Radio2 reported "many collapses" in the town of Amatrice in the Rieti province.
Sergio Pirozzi, a mayor of the town of about 2,700 residents, said it needs urgent assistance from civic protection services, citing extensive damages.
"The ancient doors have come down. We need help from the civic protection [services]," he said to Radi Rai.
"I'm trying to contact the services. The town doesn't exist anymore," he added.
Although, there is no information on the casualties yet, several people are trapped under the rubble, the mayor confirmed, La Republica reported.
"There's been a landslide and a bridge might collapse," the mayor told RAI.
The national civil protection agency stated the earthquake is estimated to be "severe," Reuters reported.
Multiple reports of damages are coming in on Twitter.
Apart from Amatrice, buildings have collapsed in Arquata and Norcia. At least two deaths due to the earthquake were reported in Arquata, according to RailNews 24.
Four people have been confirmed dead by the mayor of the town of Accumoli, RailNews reported.
"Four people are under the rubble, but they are not showing any sign of life. Two parents and two children," Accumoli Mayor Stefano Petrucci said, as cited by RAI television.
According to RAI sources, two people were killed in the village of Pescara del Tronto, some 13 kilometers from Accumoli.
"Here we are collapsing, we are in an emergency," Petrucci said, as cited by Italian news agency Andkronos.
The death toll is expected to rise as more people, including a family with two children, are trapped under the ruble, the mayor added.
"It's a disaster, we can't coordinate the relief efforts. I also know of confirmed casualties in Illica," he said, as cited by the Telegraph.
The USGS graphics suggest "significant casualties" are likely to occur in Central Italy with small town of Accumoli, Norcia, Maltignano, Amatrice, Cascia and Cittareale are listed as most exposed to the quake. The economic damages are expected to be significant and "likely widespread."
"Past events with this alert level have required a national or international level response," the USGS states.
A series of strong aftershocks followed the initial quake. One with a 5.5 magnitude occurred 4 kilometers from the town of Norcia at a depth of 10 kilometers.
3:38 whole center Italy #earthquake - 'felt like it was never going to stop. From Rome to Adriatic coast. Here all fine. I hope no damage

— Isa (@EPJas2) August 24, 2016
Pretty sure I was just woken up by an #earthquake in #rome. I thought someone snuck into my hotel room & was jumping on the bed. Both scary!

— Sarah Conrad (@thesarahconrad) August 24, 2016
Most terrifying moment of my life there. Woke up as felt like someone violently rocking bed. Only an #earthquake! #Rome

— Ryan Sloan (@ryansloan07) August 24, 2016
You can share this story on social media: