Russia used Iranian airfield for Syrian operation at Tehran's invitation – official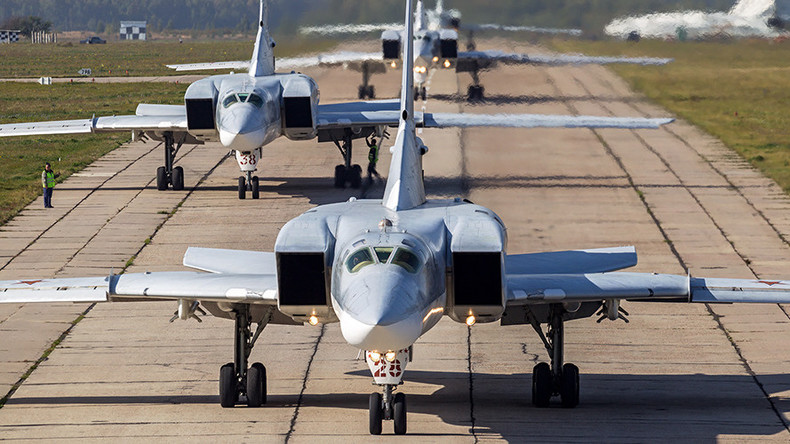 The initiative for Russian planes to use Iran's Hamadan Airbase in their strikes against terrorists in the Syrian city of Aleppo came from Tehran, a high-ranking Iranian official has said.
Tehran asked Moscow for airstrikes "next to the land operation" in Aleppo, Ali Shamkhani, secretary of Iran's Supreme National Security Council (SNSC), told state television, according to AFP.
"Iran has brought powerful Russia along... due to its need to cooperate with Syria" in the fight against militants, Shamkhani added.
The SNSC secretary also stressed that "a coalition among Iran, Syria and Russia to fight terrorism exists."
The coalition's "decisive strikes from land and air targeted Takfiri [apostate] terrorists in Syria in a bid to thwart the US and its allies' 'time-buying' strategy in recent operations," Shamkhani is cited as saying by Iran's MEHR news agency.
The statements come after Iran's defense minister, Gen. Hossein Dehghan, criticized Moscow for making public its use of the airport.
"The Russians are interested to show they are a superpower to guarantee their share in the political future of Syria and, of course, there has been a kind of show-off and ungentlemanly [attitude] in this field," Dehghan said.
Last week, Russia announced that its Tu-22M3 bombers carried out combat missions in Syria from Iran's Hamadan airfield. Previously, long-range bombers had used bases in Russia to strike targets in Syria.
The Russian planes left Iran "on Thursday, in accordance with the land operations and not under pressure from any other country," the SNSC secretary said.
Shamkhani said that "certain Western and Arab countries which are greatly delusional about their power in altering regional equations have been caught off-guard by Iran's political, defense and security initiative" to invite Russian aviation.
According to the official, Tehran and Moscow have "all-out relations," which are based "on national interests and in the form of strategic cooperation. The relations aren't restricted to fighting terrorism and cover more extensive aspects."
READ MORE: Iran commits Hamadan airbase to Russia for 'as long as needed'
Heavy fighting is underway in Aleppo, which has remained spilt between government forces and militants since the beginning of the Syrian conflict in 2011.
You can share this story on social media: