All Russian planes back from Iran base, future missions possible – Moscow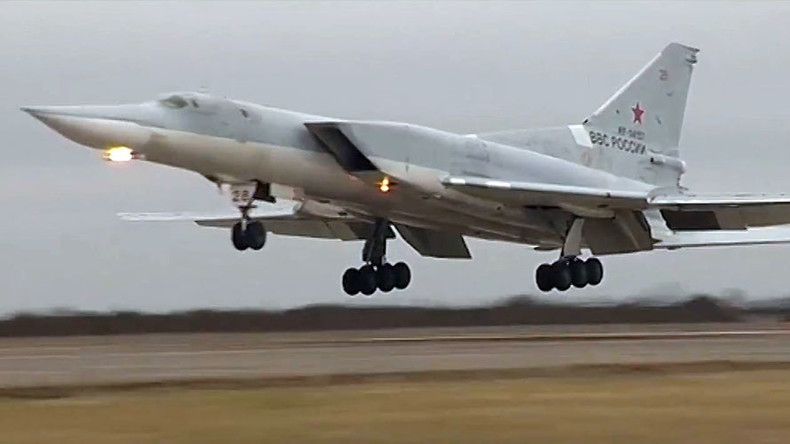 Russian Air Force warplanes have left the base in Iran from which they last week bombed terrorist targets in Syria. Moscow and Tehran said the deployment had achieved its goals.
"The Russian aircraft which flew missions from the Iranian Hamadan Airbase against terrorist targets in Syria have successfully completed [their tasks]. The warplanes are currently back in the Russian Federation," Russian Defense Ministry spokesman Igor Konashenkov said Monday.
He added that further deployments of the Russian military to Iran "would be based on mutual agreements on fighting terrorism and depending on the developments in Syria."
Iran's Foreign Ministry spokesman confirmed the outcome.
"They did this [operation] and it is finished for now," Bahram Qasemi was quoted as saying by Tasnim news agency.
Earlier, Iranian Defense Minister Hossein Dehghan said the Russian deployment was temporary, but would last "as long as needed."
The unexpected deployment last week of Tu-22M3 heavy bombers and Su-34 fighter bombers was criticized by the White House, which called it "unfortunate" and speculated that it might have violated a UN Security Council resolution which bans the transfer of combat aircraft to Iran.
Moscow dismissed the notion on several occasions, with the Defense Ministry on Monday reaffirming that it was an anti-terrorism mission, not an arms sale contract.
"In the case of using Iranian territory by Russian military aircraft, we should proceed from the annex to [UN Security Council] Resolution 2231, which sets out regulatory measures of arms supplies to Iran. In this case, we are not talking about arms supplies or sales," said Mikhail Ulyanov, head of the ministry's non-proliferation and arms control department.
According to Ulyanov, it was a bilateral agreement on the use of Iranian airfield by Russian planes and "no approval from the UN Security Council on such operation is required by definition."
READ MORE: Russia could use Incirlik airbase 'if necessary' – Turkish PM
Russia and Iran both support the Syrian government in its fight against Islamist groups such as Islamic State (IS, formerly ISIS/ISIL) and Al-Nusra Front.