Turkey withdraws ambassador from Austria as diplomatic tensions grow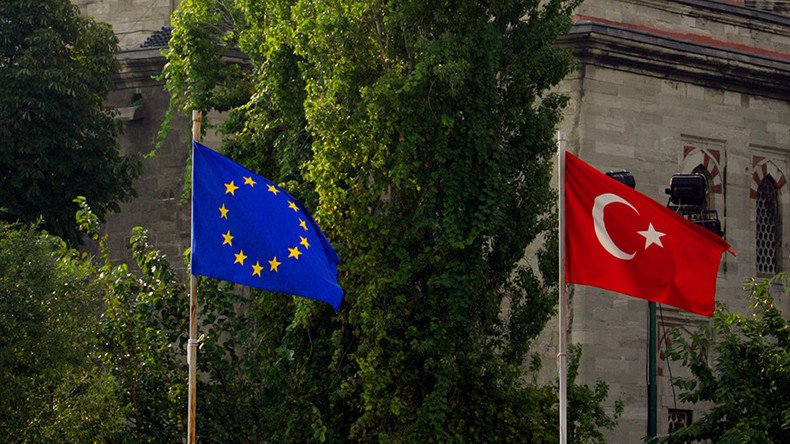 Turkey has withdrawn its ambassador to Austria amid growing tensions between the two countries. Turkish Foreign Minister Mevlut Cavusoglu said the top diplomat was called back for "consultations."
The minister added that the Turkish authorities also want to "review" their relations with Austria, Anadolu news agency reports. "Unfortunately, the ground for our bilateral relations and cooperation to continue as normal has disappeared," Cavusoglu said, as quoted by AP.
Cavusoglu also said that the Austrian ambassador was summoned to the Turkish Foreign Ministry over a rally, which was held in Austria in support of the Kurdistan Workers' Party (PKK), a militant group, which is listed as a terrorist organization by Turkey as well as by the US and European countries.
The rally was held in central Vienna on August 20 and was attended by about 600 people.
"We saw that... the PKK and its supporters were given permission to stage a demonstration in Vienna," Cavusoglu said, commenting on the issue. "This does not comply with honesty or sincerity. We couldn't stay inactive against this attitude which supports terrorism," he added, as quoted by AP.
Relations between Austria and Turkey have been souring in recent weeks. In early August, Austrian Chancellor Christian Kern sharply criticized Turkey for the crackdown launched following the failed anti-government coup on July 15. The Chancellor added that Ankara's policy after the coup shows that Turkey can't now be part of the EU.
Kern also denounced the EU negotiations with Turkey about its potential future membership of the Union by calling it "fiction," and suggested putting an end to these talks. In response, Cavusoglu labeled Vienna the "capital of radical racism."
Later, Heinz-Christian Strache, leader of Austria's far-right Freedom Party, compared the Turkish president's post-coup crackdown to the 1933 Reichstag fire in Germany that was used by then-chancellor Adolf Hitler to round up members of the Communist Party and other opposition groups and exert Nazi rule.
On August 14, Turkey summoned the Austrian deputy ambassador in Ankara over a news headline displayed at Vienna's airport, which read: "Turkey allows sex with children under the age of 15." The Turkish Foreign Ministry denounced it as "image-tarnishing" misinformation.
You can share this story on social media: