Turkey bombing video: Immediate aftermath of blast at wedding ceremony in Turkey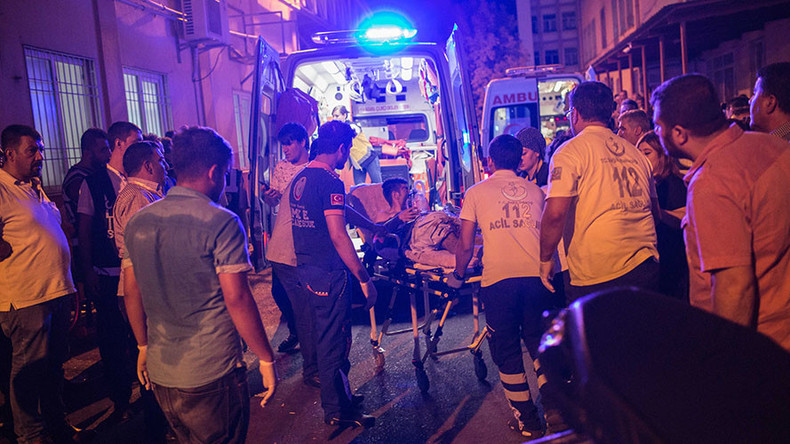 A graphic video showing the immediate aftermath of the explosion at a wedding ceremony in Gaziantep, Turkey, that killed at least 50, has emerged online.
The video shows the scene outside the hall where the wedding party was held, with bodies carried around and bystanders trying to help the wounded until the ambulance arrives.
WARNING: GRAPHIC CONTENT
At least 50 people were killed, according to the local governor's office, as cited by Reuters.
Turkey's president Recep Tayyip Erdogan said Islamic State (IS, formerly ISIS/ISIL) militants were the "likely perpetrators" behind the late-night bombing.
"Our city of Gaziantep has become a victim of one of the organization that carries out acts of terror in different ways but for the same purpose […] Daesh [Arabic pejorative term for IS] are the likely perpetrators. Our message to this organization and to those who attacked our country and our nation is this: you will not succeed!" the president stated in a statement on Sunday, as cited by Cumhuriyet newspaper.
WARNING: GRAPHIC CONTENT
The wedding had a strong Kurdish presence, local media reported. The pro-Kurdish Peoples' Democratic Party (HDP) said its members had been present, as well as many women and children, the agency noted.
Erdogan promised to bring those behind the atrocity to justice, noting that the aim of such attacks as the one in Gaziantep was to seed division between different minorities and groups that live in Turkey - Arabs, Kurds and Turkmen – "turning us against one another" to "spread incitement on ethnic and religious lines."
"[We will] decipher the true intentions behind this provocation, the unity, the brotherhood of our nation will not be compromised. We will hold accountable those who killed our brothers and sisters in Gaziantep, no one should doubt we will make them pay for the blood they shed," he said.
The bombing occurred on Saturday evening as a large group celebrating the wedding went walking along the city streets.
Numerous ambulances were dispatched to the area. According to media reports, the injured, children among them, were taken to at least four hospitals in the city and blood donations were sought in order to save their lives.
The blast in Gaziantep was the latest attack to have rocked in a violence-tainted year that has seen a number of Islamist attacks, as well as the bloody failed government coup on July 15, when military officials drove tanks into Ankara in a bid to overthrow the regime.
CORRECTION: A video earlier contained in this article did not pass our authenticity check and was removed.
You can share this story on social media: