'Uncontrollable urge to eat knifes': Indian doctors discover 40 blades in man's stomach (VIDEO)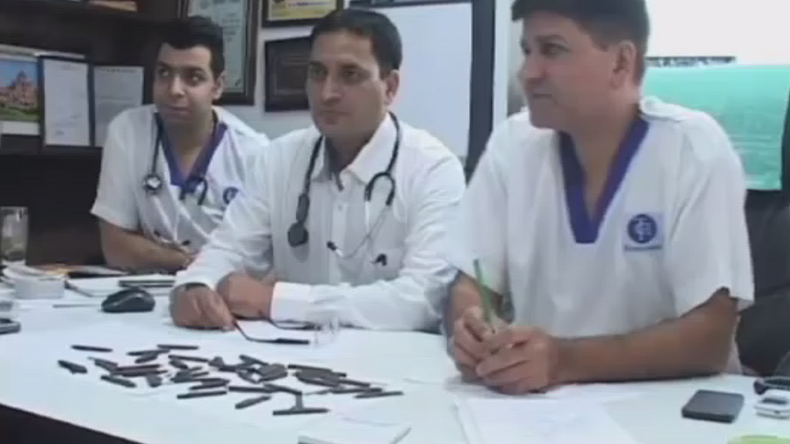 During a most unusual surgery, doctors at an Indian hospital were stunned to discover scores of knives in a patient's stomach. As it turns out, the man has had an "uncontrollable urge" to eat them for the past two months.
In a rather "dreadful" operation, doctors at a hospital in Amritsar in northwestern India recovered 40 knives from a patient's body after the man was admitted to the facility with severe stomach pain, the Times of India reports. According to Barcroft Media, Police head constable Jarnail Singh had been eating the cutlery for the past two months, as he simply "liked the way they tasted."
"In my 20 years of practice, this is the most dreadful surgery I have ever seen or done," said Dr. Jatinder Malhotra, managing director of The Corporate Hospital.
Doctors who thought a tumor was to blame for the "puzzling caseof pain" conducted a CT scan, only to find that they were mistaken.
"Patient's ultrasound revealed a growth in his stomach. To confirm the diagnosis, an endoscopy was done which showed a few metallic knives inside the stomach," Malhotra said.
"After that, a CT Scan of the abdomen was done, which showed multiple knives inside the stomach," he explained.
Doctors then learned that the policeman had an "uncontrollable" desire to eat knives, probably due to a psychological disorder.
"The patient then told us he had an uncontrollable urge to eat knives. What is astonishing is that he had been eating knives since the past two months, Malhotra said. "This was very unnerving; I have not witnessed something like this in my career as a doctor."
The surgery lasted five hours and the man, whose life is no longer in danger, is due to be released from the hospital in the next few days.