Pack of 50 stray dogs attack, partly eat elderly woman at Indian beach
A pack of 50 canines killed and partly ate a 65-year-old women in a gruesome attack in a village in southern India. The woman was mauled as she tried to use a beach toilet.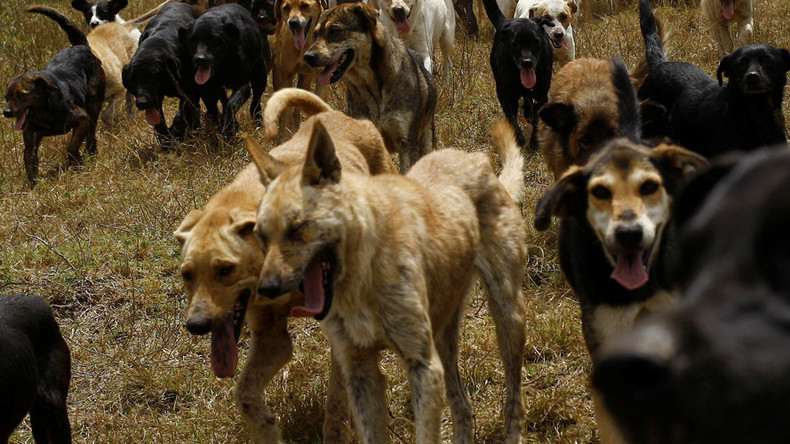 The incident happened on Friday night in the coastal village of Pulluvila in India's southern state of Kerala, NDTV reports.
At around 21:00 local time, a woman identified by authorities as Sheeluamma, 65, went to the nearby beach to use a lavatory, since she did not have any at home. A pack of some 50 stray dogs surrounded and attacked the victim. While hearing his mother screaming, the woman's son tried to rescue her from the canines.
The man was then also attacked by stray dogs but "escaped unhurt by jumping into the sea", according to the Times of India.
More locals then rushed to the scene, helping to scare away the dogs and bringing the woman to the Medical College hospital. Officials say she died there due to her severe injuries.
Following the assault, residents vented their anger at authorities for failing to tackle the problem with repeated stray dog attacks.
"We have lost all our patience as the authorities are hanging on to some obscure law which says dogs cannot be eliminated. Are we inferior to these dogs," members of the public said, as cited by NDTV.
Just an hour later, stray dogs at a different part of the same beach attacked another woman. She was taken to hospital for treatment after sustaining leg and hand injuries, local media reports. Medics said the injuries were not life threatening.
The state is witnessing a rise in the number of stray dogs as officials are still trying to figure out how to solve the problem. The authorities in Kerala recently appointed a special commission, which came to a staggering conclusion that around 100,000 people had been attacked by stray dogs since early 2015, the Times of India reports.
According to the outlet, the animals are even not shying away from going into crowded places. In July a canine entered a school campus in Kerala state, attacking children who were playing outside, two of whom were injured.
"Hearing their cry for help, teachers came out and drove the dog away. Both kids were rushed to the General Hospital," local media reported.
The problem of stray dog attacks is also a major challenge for authorities in the neighboring Pakistan, where thousands of attacks on people are reported each year.
Officials in the country's largest city of Karachi recently poisoned some 700 stray dogs in an attempt to try and curb the problem.
However this did not sit well with the locals who slammed the move, venting their feelings on social media.
"Just bloody horrible", "Spread the word. Shame on Karachi authorities!" some of the messages read.
You can share this story on social media: