Bolivia military academy 'to fight US imperial oppression' at home & globally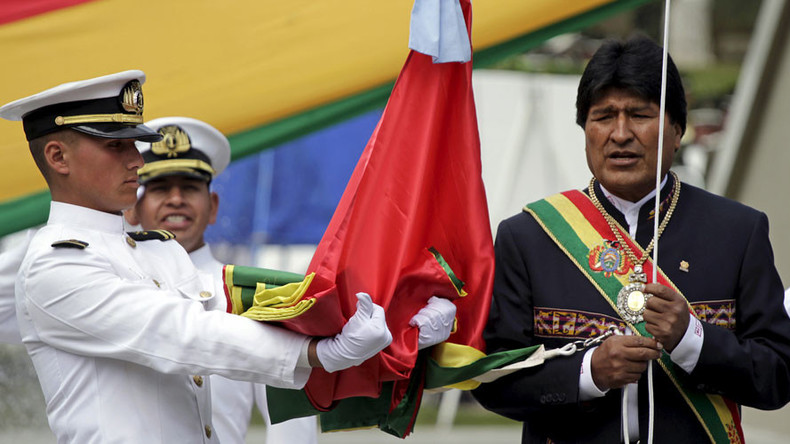 Bolivian President Evo Morales has established a new military academy in the eastern town of Warnes, and pledged it will deal with the US "imperial oppression" in Latin America and all over the world.
"While the empire's [as Morales refers to the US – ed.] military schools teach how to dominate the world, this school will help us learn to free ourselves from imperial oppression. We'll be a school for the defense of the people, and not the empire," Morales said at the opening.
The school will start working with 100 students, and will be accessible to officers from other Latin American countries.
The new academy's "anti-imperialism" degree will be essential in order to be promoted to the rank of captain in the Bolivian Army, the local newspaper Pagina Siete has reported.
Initially, the idea of setting up such a school is that of the Venezuelan leader Hugo Chavez. He gave funds to build the school before his death in 2013.
Morales, however, is also known for his anti-US rhetoric: he expelled the US ambassador in 2008, accused Washington of triggering "congressional coups" like the looming impeachment trial of Brazil's President Dilma Rousseff, and said the US promotes global terrorism via military interventions.
The new school is set to rival the legacy of the US School of the Americas in Fort Benning, Georgia Bolivian officials said. The school, which was later renamed as the Western Hemisphere Institute for Security Cooperation, provides military training to government personnel in US-allied Latin American nations. It was not void of controversy – the FAQ section on its website in 1999 included flat denials it teaches torture.
"The School of Anti-Imperialism is a school that seeks to preserve life, unlike the School of the Americas, which brainwashed military officers into believing that the enemy was our people," Bolivia's Defense Minister Reymi Ferreira said during the opening ceremony, as quoted by Telesur on Wednesday.