Israel's mysterious baby-stealing scandal extends to Holocaust survivors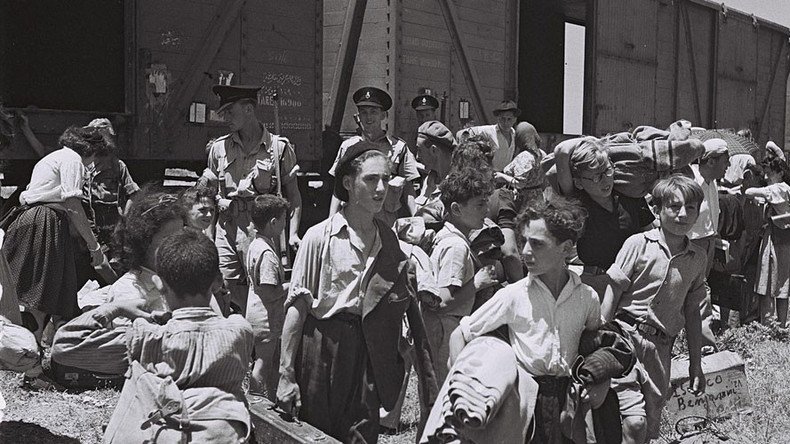 Holocaust survivors are among those victimized by Israel's growing baby-stealing scandal, a shocking new investigation by Haaretz has found.
Israel has long been accused of nabbing babies from Yemenite immigrants in the 1940s and 1950s, but the new report from the country's "oldest daily newspaper" details accounts of families from Europe who lost children in unusual circumstances in both Israeli hospitals and in British detention camps in Cyprus.
Many families never received death certificates or burial sites and others report having their children taken from their arms by nurses who told them they had too many.
Some parents even received military draft notices on their child's 18th birthdays, indicating no death certificates were ever filed.
Since its publication last week, more than 100 others have come forward with testimonies, with 15 Ashkenazi Jewish families reporting they were told one of their twins "died" in various circumstances, but believe they were actually given away and may still be living.
Tzachi Hanegbi, minister for national security, admitted last month that hundreds of babies had been stolen. He was tasked with examining about 1.5 million pages of classified documents in the archives relating to previous investigations, but hasn't been given access to everything including adoption records.
"I'm reading testimony of nurses, social workers and people who admitted the children to hospitals and a variety of people, each of whom saw a small piece of the puzzle," he said. He will examine the material until October, when he will recommend the material be released.
Between 1,500-5,000 Yemenite, North African and Middle Eastern children were reported missing in the 1940s and 1950s.
Israel has conducted three previous commissions into the allegations over the years, which concluded the majority of the children died in hospital.
The third commission's results were published in 2001 and a number of testimonies will be censored by the government until 2071.
Israeli Prime Minister Benjamin Netanyahu voiced his support for getting to the bottom of the missing Yemenite babies in June. "I think the time has come to find out what happened, and do justice," he said in a video posted to his Facebook page, adding "as of this moment, I don't know why it [the directive to seal the documents] exists."
Testimonies
Haaretz's report contains testimonies of Holocaust survivors who lost their babies at the hands of the nascent Israeli government.
Ganit Efrat's brother Zelig supposedly died in a Cyprus detention camp clinic. Efrat's parents, Holocaust survivors from Poland and Ukraine, did not receive a birth certificate or details of his burial site.
He had been healthy until he went to a clinic run by the Jewish Joint organization and Jewish Agency with a light cold. They kept him overnight, and when his mother returned, she was told he died.
When her parents were later granted access to Israel, representatives in Cyprus told them to pretend they were going with their son who had died in the hospital, in order to get better terms.
It wasn't until years later that they learned the truth, when Ganit's father tracked down the nurse from the clinic in a retirement home and she confessed that Zelig had been sold to a childless couple for US$5000. The Efrat family was not alone.
"This method started even before the establishment of the state, outside of Israel, with Holocaust survivors," Efrat said.
Rachel Potter's parents were Holocaust survivors from Belarus and Poland who arrived in Israel in 1948. Their son Aharon was born one year later. When he was taken to a hospital for a test, his father was informed he had died three days later.
Potter's mother was convinced her son had been stolen and Potter has spent years searching for him. In her research, she has found many inconsistencies in hospital reports.
Rachel Ben Schimol's brother Zvi was born in a transit camp in France in 1948. Her Polish parents moved to Israel, where Zvi got ill and sent to hospital in 1950. They were told he had died.
When Ben Schimol investigated, she found Zvi was listed as having left Israel.
"It still makes me shudder when I think about it, because after all they told us he had died," she said.
Ben Schimol is currently fighting to have his alleged grave opened to test the DNA.
Orna Klein's parents were born in South Africa and came to Israel in 1949. They had a daughter in 1951. Two days later, they were told she had died.
"In my mother's medical file we found that all the information on the period of her pregnancy and giving birth were torn out, while what came before and what came after — [were still there]," she said. "When we asked to look at the files for the maternity hospital, they told us the archive had burned down."

Twins
Haaretz's report inspired more people to come forward this past week with a number of cases featuring twins.
Shoshana Shani's Hungarian parents had twins in 1947. A nurse told her mother that she didn't have a son three days after she gave birth to him.
A London family from Lithuania had a similar story with their twin boys, when only one was allowed to come home from the hospital.
Shulamit Bar-Tal's Hungarian parents survived the Holocaust and in 1951 her mother gave birth to her - and her twin sister. Bar-Tal grew up believing she had hit and killed her sister during childbirth, based on what doctors told her mother, but now she believes she was a victim of this shameful history and her sister was taken away.
Doctors reportedly told Yehezkel Brot's parents that his twin brother needed to stay in hospital to "get stronger," even though Yehezkel was the "weaker" child.
Another couple originally from Iran gave birth to twins in 1951 and thought their "fairer-skinned" child had died in a hospital after getting sick a few days after she was born.
Mystery
Israel's early years were marked by chaos as hundreds of thousands of Palestinians were ejected from their homes to make way for the Jewish immigrants, coming mostly from North Africa and Europe.
Some believe the babies were sold to help the state cover costs. Others, like journalist Jonathan Cook, say "Arab-looking" families were targeted because their appearance was at odds with the creation of a Jewish state that sought to rid the region of Palestinians and the Jewish children who looked like them.
Israel's first President David Ben Gurion came from Eastern Europe and held the view that Eastern European Jews were more civilized.
This doesn't explain the motive behind stealing the children of Holocaust survivors from Europe, but there is hope that the mystery will be solved.
Hope
There is support for declassifying the papers in the Israeli government, with a number of politicians sharing their personal connections to the mystery.
READ MORE: 45,000 demand Israel PM Netanyahu's arrest for 'war crimes' during UK state visit

"Likud MK Nava Boker's spoke of her sister and brother, the latter of whom has two graves marked with his name," the Times of Israel reported. "Shas MK Yoav Ben-Tzur said his uncle and baby cousin had disappeared on the same day. Zionist Union MK Yossi Yonah described how his aunt ran around the hospital looking for her daughter after the doctors told her she had died, but refused to produce her remains. And Likud MK Nurit Koren – who has been spearheading the issue in the Knesset – spoke about her missing cousin, born to her aunt after years of infertility."


You can share this story on social media: