Russia notified US-led coalition of anti-ISIS strike from Iranian air base – Pentagon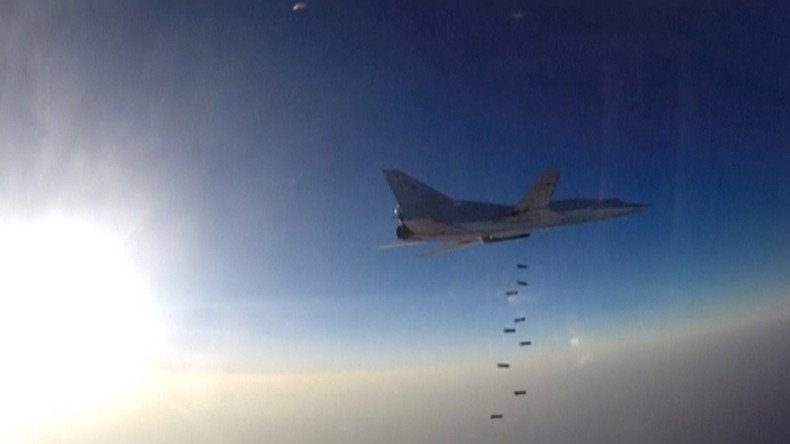 Russia notified the US-led coalition about using an Iranian airfield and passing through airspace controlled by the coalition forces while conducting airstrikes targeting Islamic State (IS, formerly ISIS/ISIL) terrorists in Syria, the Pentagon said.
READ MORE: Russian Tu-22M3 'Backfire' long-range bombers strike ISIS from Iran's Hamadan airfield (VIDEO)

"The Russians did notify the coalition," Col. Christopher Garver, a US military spokesman in Iraqi capital Baghdad, told journalists during a briefing via teleconference on Tuesday.
He said that the Russian side "informed us they were coming through" airspace that could potentially put them in proximity of the coalition air forces in Iraq and Syria, adding that the US maintained safety of flight as those bombers passed through the area and toward their target and then flew back.
The military official added that Russia activated a communications link with coalition officials, as in the past, and let them know "in time" about Moscow's plans. Asked about how much advance notice was given, Garver said that "it was not a lot of time, but it was enough" to maintain safety in the airspace over Iraq and Syria.
He said that Russian bomber flights did not affect US coalition air operations.
In the meantime, theUS State Department said that Russia's use of an Iranian airfield in its air strikes in Syria is regrettable for the US. The State Department's spokesman, Mark Toner, described the move as an "unfortunate" turn of events. At the same time, he added that it was "neither surprising, nor unexpected."
Toner also added that the US State Secretary John Kerry had already expressed his concerns about then situation to his Russian counterpart Sergey Lavrov in a phone conversation on Tuesday.
On Tuesday, Russian long-range Tu-22M3 bombers carried out the first airstrikes against terrorist targets in Syria operating from Hamadan airfield in Iran. The strikes eliminated five major terrorist weapons depots and training compounds as well as three command posts and a significant number of terrorists in Aleppo, Deir-ez-Zor and Idlib provinces.
The bombers were covered by Su-30sm and Su-35s jet fighters operating from Russia's Khmeimim airbase in Syria. The number of military aircraft deployed at Hamadan airbase was not disclosed.
In the meantime, Iraq has announced that Russian military aircraft can cross its airspace "under certain conditions."
"We opened our airspace for Russians on certain terms," the Iraqi prime minister told local media, without giving further details.
Moscow and Tehran signed a military agreement allowing Russian aircraft to be stationed at Hamadan airport in western Iran, the Islamic Republic's Secretary of the Supreme National Security Council, Ali Shamkhani, confirmed to IRNA news agency on Tuesday.
In January, Russia and Iran signed a military cooperation deal that implies wider collaboration in personnel training and counter-terrorism activities.
On Monday, Russian media reported that Moscow has once again asked Iran and Iraq to allow cruise missiles to fly through their respective airspace to deliver strikes on terrorist targets in Syria.
At the same time, Russia and the US are actively engaged in direct talks aimed at resolving the humanitarian crisis in Aleppo, Syria, Russian Defense Minister Sergey Shoigu said on Monday, adding that the two sides are working in a concrete and organized way.
Since launching an anti-terrorist operation in Syria at the request of President Bashar Assad, Moscow has proposed to Washington that the US-led coalition unite with Russian forces to defeat Islamic State (IS, previously ISIS/ISIL), but had seen no progress with the offer until recently.
In mid-June, the Washington Post reported that the US was allegedly planning to create a joint HQ with Russia to share intelligence and carry out "synchronized" strikes on terrorists in Syria.
You can share this story on social media: