Top Turkish officials lambaste Swedish FM after she implied Turkey allowed sex with minors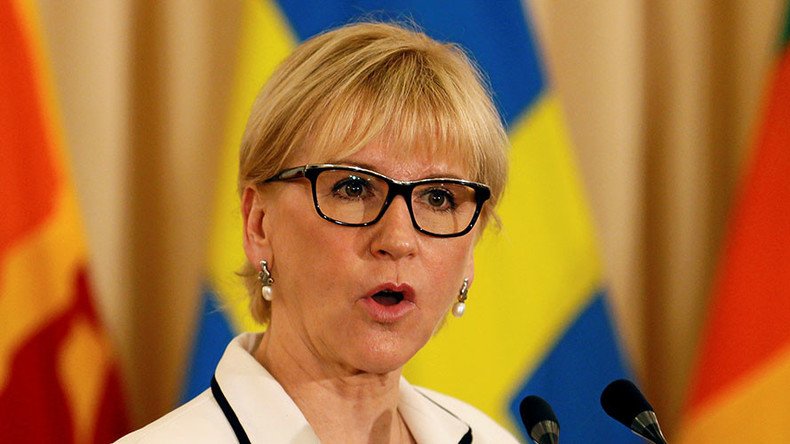 Ankara blasted Swedish Foreign Minister Margot Wallstrom after she made demands on social media that Turkey cancel a court ruling which she believed legalized sex with children under the age of 15 in Turkey.
Wallstrom took to her official Twitter account on Sunday, claiming that "Turkish decision to allow sex with children under 15 must be reversed."
The Swedish FM's comments did not go unnoticed as her Turkish counterpart, Mevlut Cavusoglu, slammed Wallstrom for having no idea of what she was talking about.
"It is a scandal for a foreign minister to post such a tweet based on false news or speculation," Cavusoglu said in televised comments cited by AFP.
Turkish decision to allow sex with children under 15 must be reversed. Children need more protection, not less, against violence, sex abuse.

— Margot Wallström (@margotwallstrom) 14 August 2016
"A foreign minister shouldn't tell lies and shouldn't adopt an approach accusing Turkey," he added, calling the Wallstrom tweet "unacceptable."
According to the minister, Ankara is open to fair criticism, but what Sweden's top diplomat engaged in "slander, a lie."
Cavusoglu also said that Sweden's ambassador to Turkey has been summoned to the foreign ministry over the incident.
Turkey's Deputy Prime Minister, Mehmet Simsek, took to Twitter to reply to Wallstrom and point out her lack of knowledge on the issue.
In July, Turkey's top constitutional court annulled a provision which treated all acts, involving children under 15 years old as "sexual abuse."
It was done after a petition by a lower court, which expressed concern that there was no distinction between cases of sexual acts involving young teenagers or toddlers, in the criminal code.
The Turkish Parliament now has six months to vote the constitutional court ruling into law.
READ MORE: Turkey summons Austrian deputy ambassador over 'sex with under 15s' news headline
The legal age of consent in Turkey remains 18, but human rights activists expressed concerns that the amendment would let child abusers off the leash.
In his interview, Foreign Minister Cavusoglu assured that Turkish authorities are eager to tackle child abuse, adding that the country's justice ministry was working on a new legislation.
On Sunday, Turkey summoned Austria's deputy ambassador in Ankara over an "image tarnishing" news headline displayed at Vienna's airport. It was also dedicated to the controversial constitutional court decision and read: "Turkey allows sex with children under the age of 15."
You can share this story on social media: