US ponders bomb-grade uranium shipment to Belgium, as critics cite security concerns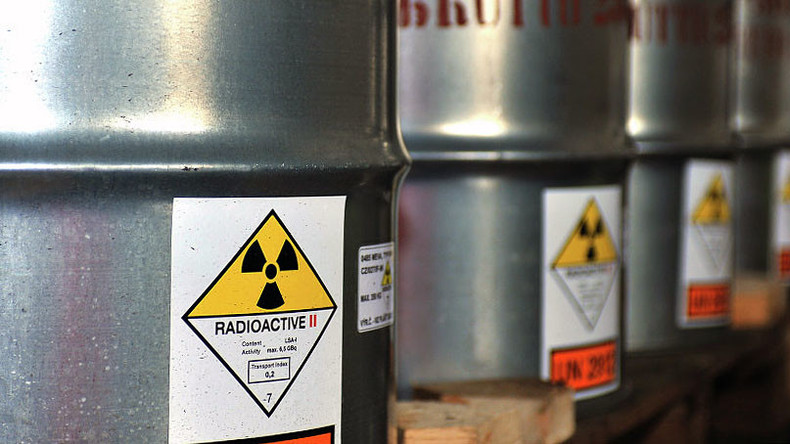 The US nuclear regulator is to decide whether to continue supplying highly enriched uranium (HEU) to a Belgian research reactor that produces radioactive isotopes for medicine, but critics have been calling for a switch to uranium not suitable for bombs.
A decision from the US Nuclear Regulatory Commission on whether to permit the Belgian Nuclear Research Center (NRC) to obtain 144 kilograms of weapon-grade uranium is currently pending. The NRC says it needs the new material to keep its medical research reactor going for the next decade. The facility produces radioactive isotopes for fighting cancer.
The US has been reluctant to provide foreign partners with weapon-grade uranium as of late because of fears that it could fall into the wrong hands or set back global efforts to limit nuclear proliferation.
The US and Belgian centers have been doing business for decades, and the Belgian side has promised to modernize its production process to use low-enriched uranium (LEU) instead of the HEU used to produce nuclear bombs.
Since at least 2005, the Belgian research center has been assuring the Americans that it would make the transition to LEU, but years have passed with no visible progress and the medical reactor is now exhausting its lifespan.
Transition to LEU will be made "as soon as a technical solution exists," Reuters cites the Belgian research center as saying in a statement.
"Now more than a decade has passed and they are asking for another 10 years – that seems to be a bit preposterous," said Armando Travelli, who until 2005 was in charge of a US Energy Department program aimed at converting research reactors around the world to LEU and bringing bomb-grade HEU to the US, according to Reuters.
The Atoms for Peace program launched under President Dwight Eisenhower initiated the construction of research nuclear reactors running on HEU back in the 1950s. Although the program was active for decades, at the beginning of 1978, Washington spent tens of millions of dollars to convert HEU reactors or shut them down. Some reactors were converted only after the NRC threatened to cut supplies.
Though nearly 100 research reactors have already been converted or closed down, over 70 plants are still running on HEU.
The Belgian reactor, which produces considerable quantities of radioisotopes needed to detect and treat various types of cancer worldwide, is one of them, and it reportedly needs exclusively high-energy density fuel, as no suitable substitute has yet been found.
"There's no other fuel they can use at the moment," an anonymous source told Reuter, adding that short-term contracts have been driving HEU costs "way up."
Although the NRC approves HEU exports only for foreign customers having "adequate physical security measures" in place, the US Department of Energy and State Department might have something to say in the matter when the decision on whether to approve the shipment to Belgium is made in several months.
The Belgian research center insists that its facilities are under permanent military protection, just like the country's nuclear power plants, yet this is exactly what worries experts.
A series of incidents at Belgian nuclear facilities have given the country's neighbors cause for concern. The worst occurred in 2014 at the Doel nuclear power plant, which holds four of Belgium's seven reactors. The Doel plant is located on a riverbank next to the North Sea, some 25 kilometers from Antwerp.
On August 5, an apparent act of sabotage saw 65,000 liters of oil escape in half an hour, leaving the rotating steam turbine of the Doel 4 nuclear reactor without lubrication and causing serious damage that left the reactor offline for months. A €30-million ($37-million) repair job was carried out in Germany to get the unit up and running again, while the total damages were estimated at $200 million.
The perpetrator has not been disclosed.
In March of 2016, evidence obtained by French authorities revealed that the same terrorist cell behind the November Paris attacks that killed more than 130 people, and the Brussels bombings, which claimed the lives of 31 people and injured over 270, could be planning attacks on Belgian nuclear power stations.
"In the wake of the recent terrorist threat to the Belgian site, we have a request for bomb-grade uranium that is unprecedented in both duration and amount," said Alan Kuperman, coordinator of the Nuclear Proliferation Prevention Project at the University of Texas, according to Reuters.
Concerns over the HEU shipment to Europe were mirrored in the US itself recently by a scandal in which a clandestine group (one of three) from the Government Accountability Office (GAO), the investigative arm of Congress, managed to make a "controlled purchase" of enough fissionable material in Texas to potentially produce a "dirty bomb" capable of dispersing deadly nuclear contamination in densely populated areas.
READ MORE: Undercover govt group easily purchased 'dirty bomb' materials in Texas – report