Russia, US in talks to resolve Aleppo crisis – Moscow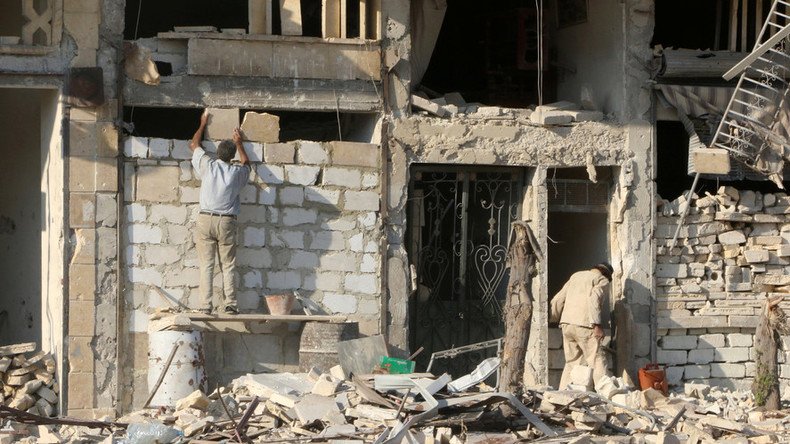 Moscow and Washington are in direct talks to resolve the humanitarian crisis in Aleppo, Syria, according to Russian Defense Minister Sergey Shoigu.
"We are in a very active phase of talks with our American counterparts both in Geneva and in Amman; we are frequently in touch with Washington," Shoigu told TV channel Rossiya 24 on Monday.
"We are moving step by step closer to a plan – and I'm only talking about Aleppo here – that would really allow us to start fighting together to bring peace so that people can return to their homes in this troubled land."
Russia and the US are working to resolve the situation in Syria in a very concrete and organized way, according to Shoigu, who explained that all of the suggestions are aimed at preserving the country's territorial integrity and fighting terrorism, while the sides believe that the rest can be worked out at the negotiation table.
Shoigu said that, despite being feared in the West, Islamist militants are actually unaware of what they are fighting for.
"If we look at [their] nationalities... they would hardly know five cities in Syria by heart. They don't know the names of those cities, and they hardly wonder what they're fighting for. It's obvious and clear to everyone."
State Department officials told a CBS News correspondent that there is presently nothing to announce on US-Russia cooperation in Aleppo.
Direct talks on the issue are continuing in Geneva, but there is no "deadline" for any agreement on cooperation, they said.
However, according to the officials, there is hope that some kind of deal may be reached before Barack Obama and Vladimir Putin meet in early September at the G20 summit in China.
Since launching an anti-terror operation in Syria at the request of its president, Moscow has been proposing to Washington that the US-led coalition unite with Russia's forces to defeat Islamic State (IS, previously ISIS/ISIL), but to no avail until quite recently.
Main results of Syria truces: Terrorists add 7,000 to ranks, get arms & munitions – Lavrov
In mid-June, the Washington Post reported that the US was allegedly seeking to create a joint HQ with Russia to share intelligence and conduct "synchronized" strikes on Islamists in Syria.
The draft proposal, obtained by the paper and published ahead of a planned meeting between US State Secretary John Kerry and Russian Foreign Minister Sergey Lavrov in Moscow, included making "independent, but synchronized, efforts" against IS and Al-Nusra Front terrorists in Syria.
If everything goes as planned, the Russian and US militaries may "permit integrated operations" that include assisting each other in air raids.
Russian officials said earlier that conducting a joint fight against IS is one of the options being considered in their discussions with their American counterparts.
You can share this story on social media: