Main results of Syria truces: Terrorists add 7,000 to ranks, get arms & munitions – Lavrov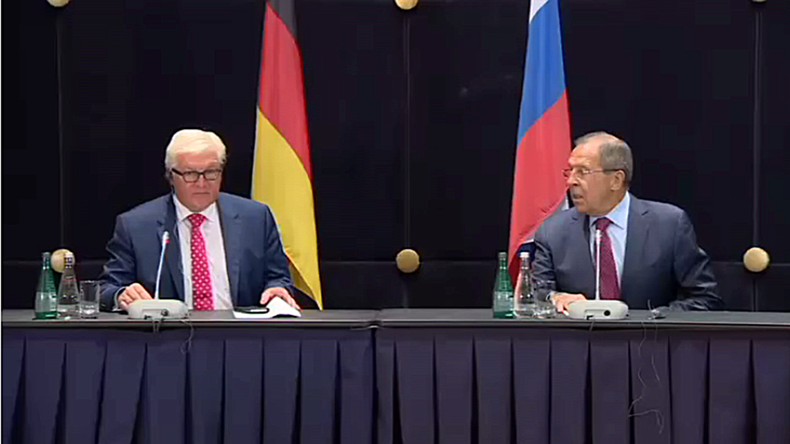 While agreeing that three-hour ceasefires are not enough to alleviate the humanitarian crises in Syria, Russian Foreign Minister Sergey Lavrov pointed out that earlier short-term truces had only helped terrorists replenish munitions and their ranks.
"The main issue is not that there's anyone unwilling to alleviate the humanitarian situation, but it is of utmost importance that terrorists would not be getting reinforced with militants, guns and munition supplies under the humanitarian aid disguise," Lavrov said.
The Russian FM said that Moscow and Washington had managed to enforce 48-hour or 72-hour truces in various parts of Syria before.
"The main results of those pauses was an insignificant relief in the humanitarian situation, while terrorists added 7,000 people to their ranks, not to mention huge amounts of arms and munitions they received," he said.
Lavrov made the remarks at a press conference following a meeting with his German counterpart, Frank-Walter Steinmeier, at Urals Federal University in Yekaterinburg on Monday.
Steinmeier, who stressed Russia's "special responsibility for Aleppo, especially when it comes to providing humanitarian access," urged for a longer ceasefire in Syria's besieged northern city.
"Aleppo residents are going through a real humanitarian catastrophe," he said. "The city is constantly shelled, this cannot continue. We need to have a constant humanitarian corridor."
Lavrov noted that a plan to drop supplies from the air being discussed in the West does not appear very realistic, while stressing that such a step should be agreed upon with the official Syrian government. He added that Moscow will continue to discuss other measures, in addition to already operational humanitarian corridors, with the Syria Support Group (SSG) and the US.
Russia ready to provide more evidence of Ukrainian incursions into Crimea
As tensions have increased around Crimea in recent days, Lavrov said he does not believe that raising the stakes in Russia-Ukraine relations would help reconciliation.
"I do not think we are in a situation when someone is interested in breaking diplomatic relations. These are extreme measures," he noted.
Last week, Russia's security agency, the FSB, said it had foiled terror attacks targeting critical infrastructure in Crimea. The attempted sabotage was allegedly orchestrated by Ukraine's military intelligence unit. While Ukraine denies responsibility, Lavrov said more evidence could be provided to prove Kiev's involvement in the incursions on the peninsula.
Steinmeier called on all sides to refrain from doing anything that would escalate the already tense situation.
"We do not have a clear picture of those events and await results of Ukrainian and Russian investigations," the German FM said.
Russia has "serious concerns" over recent developments in Ukraine, per se, Lavrov said, while proposing that both Russia and Germany unite their efforts to resolve the conflict and "synchronize steps" to implement the Minsk agreement, "including in political process and political reform [in Ukraine]."
'NATO's eastward push divides Europe'
Russian-German relations have now hit their lowest levels since the German reunification of 1990, Lavrov said, adding that "NATO's policy to move eastward at any cost deepens division lines in Europe."
Russia's top diplomat said the bloc seems to be unwilling to restore dialogue with Moscow. "The Russia-NATO Council [format] is frozen. The fact that a couple of ambassadorial meetings took place changed nothing. NATO does not want to discuss restoring relations."
He stressed that it was not Russia that had decided to break ties, adding that "our Western colleagues have admitted that it was a mistake."
Lavrov said Russia is determined to revive dialogue, even on its own: "At the Russia-NATO Council meeting last month, we came up with specific proposals to restore military cooperation, first of all, and to build trust in that regard."
He was optimistic about Russia's relations with the EU.
"Europe is becoming increasingly confident that there is no alternative to normalization of relations [between Russia and the EU] and reviving cooperation mechanisms," he said.
The Russia's foreign minister also noted that "Germany is our key partner, not only in European affairs, but also in tackling the global challenges of today, including conflict resolution, combatting international terrorism, and extremism."
You can share this story on social media: