15 Palestinians injured as 100s of Jews enter Al-Aqsa compound in Jerusalem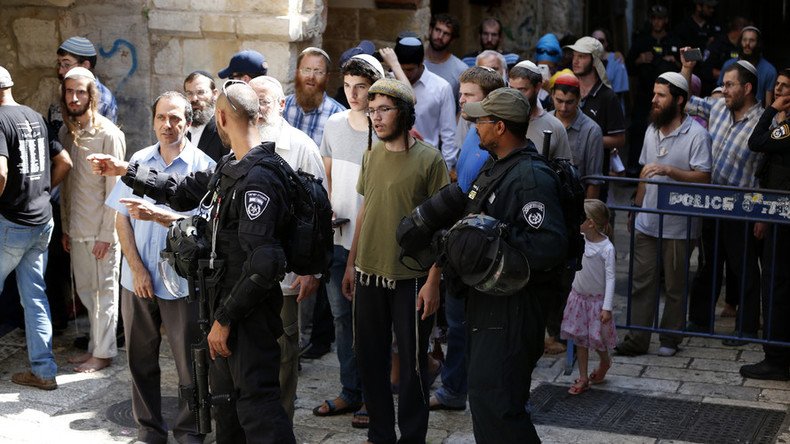 At least 15 Palestinians were reportedly injured on Sunday after several hundred Jews entered one of the holiest Muslim sites, the Al-Aqsa mosque in East Jerusalem, amid heavy police presence.
The Jews were celebrating the Tisha B'av day of mourning, which marks the destruction of ancient temples that had been located on the current-day spot of the Muslim holy site, which Jews refer to as the Temple Mount.
Meanwhile, tens of thousands of Jews prayed at the nearby Western Wall.
At least 15 Palestinian worshipers were injured in clashes with Israeli police, Palestinian news agency WAFA reported.
Around 300 Jews visited the Al-Aqsa compound on Sunday, Turkish Anadolu Agency reported, citing Israeli police spokesman Micky Rosenfeld.
According to Rosenfeld, seven Israelis were arrested for chanting or deviating from a route set by the police.
Clashes between Muslims and Jewish hardliners at Al-Aqsa were also reported in late July during the last 10 days of the Muslim holy month of Ramadan, in which seven Palestinians were injured and another four arrested by the police.
READ MORE: Palestinians clash with police as Jews try to access Al-Aqsa Mosque in Jerusalem
The Al-Aqsa mosque in East Jerusalem is seen as the third most sacred site in the Islamic faith.
The area has been occupied by Israel since 1967, and Muslims don't want Jews to pray in the vicinity.
In accordance with the status quo, only Muslims can pray at Al-Aqsa complex, while Jews are forbidden from using it for religious reasons by a 1967 ruling of the Israeli Chief Rabbinate.
However, Israeli police often allow large groups of Jews to enter the compound, mainly during religious Jewish holidays.
READ MORE: 'Israeli extremists backed by security forces' repeatedly storm Al-Aqsa mosque during Passover week
The Al-Aqsa Mosque also became a flash point between Israelis and Palestinians in 2015, after an Israeli decision to limit the ability of Palestinian men under the age of 50 to enter the holy site.
You can share this story on social media: