French court refuses to close eateries & shops in Calais 'Jungle' camp as migrant numbers top 9,000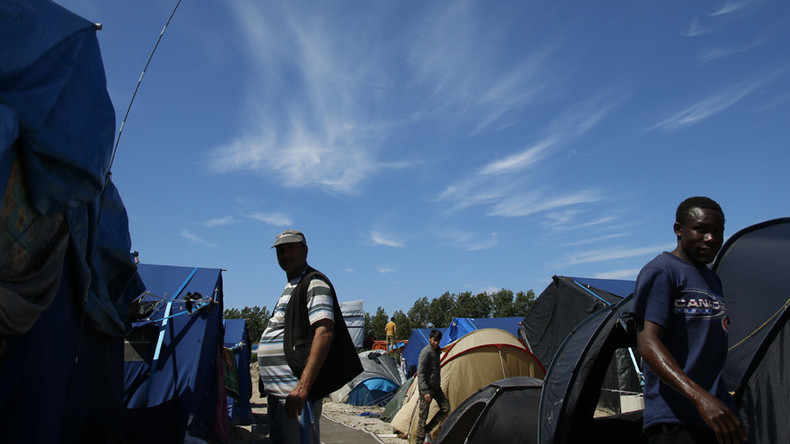 A court in Lille, France, has rejected a request from the Pas-de-Calais prefecture to close 72 eateries and shops in the local 'Jungle' migrant camp. It follows a recent NGO report which stated the number of refugees in the camp has spiked at over 9,100.
"The conditions of urgency and usefulness" given by the prefecture to ensure the closure haven't been met, the Lille tribunal reported.
At the same time, Judge Jean-François Molla agreed that these businesses "have no administrative authorization," and some "don't respect the most basic health rules."
He added, however, that "these grocery stores, cafes, [and] restaurants perform other functions," serving as a source of food for the refugees, who "live in conditions of extreme hardship and total idleness."
The locations are also for "peaceful meetings between migrants and volunteers," the judge added.
In response, the prefecture of Pas-de-Calais said it "took note" of the decision.
However, it added in an official statement that eateries and shops "do not respect any sanitary rules, represent significant risks in terms of fire safety, and disturb public order by maintaining an underground economy."
"The region will continue to fight against these illegal phenomena," the statement added.
The ruling follows a report by two NGOs working in the area – l'Auberge des Migrants (Migrants' Shelter) and Help Refugees – with the document saying the number of the refugees in the camp has reached 9,106 people, including 865 minors, 676 of whom are unaccompanied.
About 2,000 migrants arrived in July, the report added.
The French government put the number of refugees at 4,500 as of mid-June.
The report added that "there is no room to install the tents given to newcomers," and that "the proximity of shelters to each other creates a considerable risk of fire."
The atmosphere in the camp has also been described as "very tense," as the facilities opened by the NGOs are being overwhelmed.
You can share this story on social media: