US ground troops are in Libya, Pentagon admits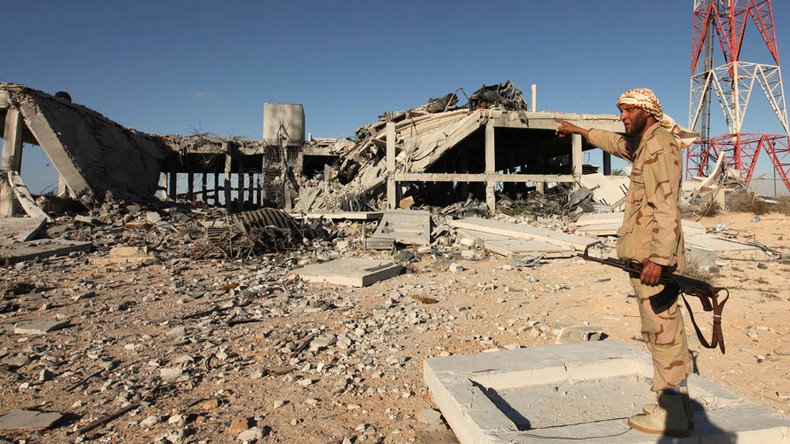 Previously denied reports of American troops on the ground in Libya have finally been confirmed by the Pentagon. The military admitted a "small number" of US forces in of Libya to support the local ones after launching airstrikes on ISIS targets
A "small number of US forces have gone in and out of Libya to exchange information with these local forces in established joint operations centers, and they will continue to do so as we strengthen the fight against [Islamic State] and other terrorist organizations," The Hill quoted Deputy Defense Press Secretary Gordon Trowbridge as saying on Wednesday.
Trowbridge explained that the ground troops entering Libya use joint operations rooms, which are away from the front line. The American soldiers help with the coordination between Libyan troops fighting Islamic State.
Trowbridge specified that American troops are providing "unique capabilities," including "intelligence, surveillance, and reconnaissance (ISR) and precision strikes — that will help enable GNA-aligned forces to make a decisive, strategic advance."
The revelation comes after the Pentagon said on August 1 that it was expanding its airstrikes against Islamic State into Libyan territory around Sirte, where the extremist group got its stronghold.
During the announcement, US made no reference to ground troops.
In fact, Trowbridge's confirmation comes only after The Washington Post brought to light on Tuesday reports that the US was "providing direct, on-the-ground support for the first time to fighters battling" Islamic State in Libya.

Trowbridge still denied reports from The Washington Post that the soldiers are fighting. "They [soldiers] are not on the front lines, nor are they on the ground in Sirte."
Since August 1, America has already carried out 29 airstrikes against Islamic State targets in Libya , according to US Africa Command.
Locals have been criticizing the US move to have ground troops in Libya, adding that it is very unlikely that it will make a significant difference.
The Tripoli Post said: "Observers in and outside Libya remain pessimistic as to the American direct military intervention in Libya which they believe will only deepen instability and brings more violence to the country. They cite the ongoing destruction, killing and instability that foreign intervention has brought to Syria, Iraq, Afghanistan and Yemen."
The situation in Libya remains very complex five years after the West's intervention toppled the country's then leader Muammar Gaddafi.
Since then Libya has been plagued with sectarian division, with parts of it becoming stronghold for the Islamic State. The Libyan government, recognized by the United Nations, controls only a portion of the country.
Earlier this week, Democratic presidential candidate Hillary Clinton's running mate, Tim Kaine, has said he doesn't think the US has the legal authority to bomb the Islamic State in Libya without Congressional authorization.
READ MORE: Clinton's VP questions legality of waging war on Islamic State in Libya
You can share this story on social media: