At least 9 dead, dozens injured in coordinated Turkey blasts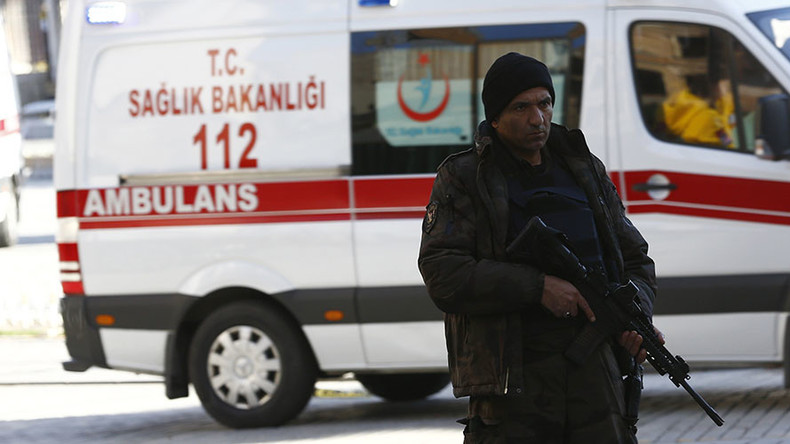 At least 9 people have died in a spate of coordinated bombings in southeastern Turkey. A roadside bomb hit a police bus outside a hospital in the Mardin province, while a car bomb targeted law enforcers in Diyarbakir.
One blast occurred outside a hospital in the city of Kiziltepe, located in southeast Turkey, close to the border with Syria.
According to authorities, the explosion hit a police bus passing by the medical facility. Gunfire was also heard from the site of the incident, Turkish media outlet Haber Turk added.
Plumes of smoke could be seen in photos posted on social media. The authorities suspect Kurdish militants were behind the blast.
Reuters reports that at least four people died as a result. The outlet says around 30 civilians and 10 police officers were wounded.
Another blast, a car bomb, went off in the city of Diyarbakir, also located in southeast Turkey. Reuters citing sources say five people died here as well. According to officials, at least ten people were injured in the explosion.
Kurdish fighters are being blamed for the attack in Diyarbakir as well, with a Turkish official telling Reuters both attacks were coordinated.
In July three people, including one police officer, were killed in a car bomb attack on a police station in the volatile Mardin province. Turkish officials blamed the Kurdistan Workers' Party (PKK) for the assault.
Southeast Turkey is a predominantly Kurdish populated area, where Ankara is conducting an operation against the PKK, which it considers a terrorist organization. However, the crackdown on the region saw claims of large-scale abuse by government forces against the civilian population.
Last month Human Rights Watch said Turkey is blocking all access for independent investigations into the alleged violence against civilians in southeast Turkey, and called for the UN to be allowed in to investigate.
Some of the alleged abuses against civilians include unlawful killings, mass displacement, and the unlawful destruction of private property, according to an HRW report.
"The government should promptly grant the United Nations Office of the High Commissioner for Human Rights permission to enter the area and investigate according to its standards," HRW said in a statement.
According to Reuters, citing Turkish officials, the bomb that hit the police car was planted by Kurdish militants. The exact number of those injured remains unclear, with the outlet claiming at least 10 people were injured in the incident.