'Artificially sick': Genetic experiments on animals triple in Germany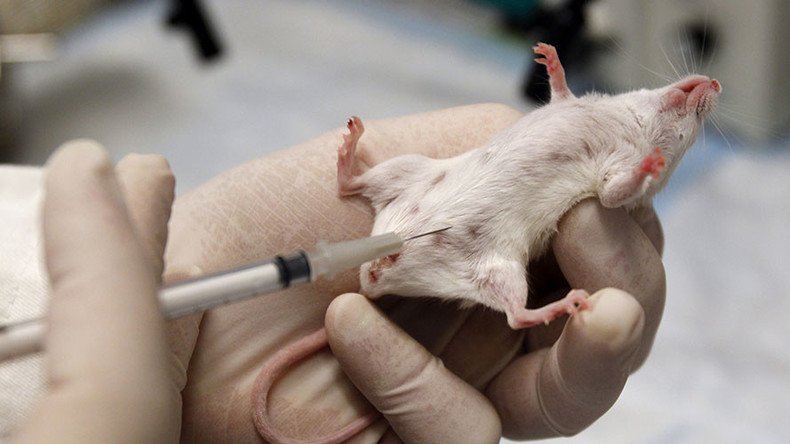 Genetic testing on animals in Germany has increased nearly threefold since 2004, with nearly one million animals, mostly mice and rats, used in genetic tests in one recent year alone, a new study says. Activists have slammed the spike as "unacceptable."
"The massive increase in animal testing for genetic engineering is unacceptable," Nicole Maisch, a Green Party animal protection spokeswoman, told the Funke Mediengruppe's newspaper.
"Especially if the medical benefits are highly questionable or tests have already proved to be unsuccessful, animals should not be tortured further," she added, noting that alternative methods for testing must be developed.
At least 947,019 animals were used in genetic tests in 2013, the Westdeutsche Allgemeine Zeitung daily reported, citing a study by research group Testbiotech.
The lion's share of genetic testing of animals is said to be part of basic research meant to back up scientific theories. In the area of drug research, animal testing plays a minor role. For instance, research on pigs over the past two decades connected with organ donations has found no concrete benefits that could be applied to humans, the study said, according to the Westdeutsche Allgemeine Zeitung.
Controversial experiments on genetically modified animals have come under fire from members of the Green Party, who argue that tests on cows and pigs result in pain and high death rates.
"It has already been shown with new genetic engineering processes in plants that they [researchers] start with making big promises they cannot fulfill," Green Party genetic testing spokesman Harald Eber told DPA.
Animals that are genetically tested with diseases like cancer, diabetes, or Alzheimer's are subject to experiments that cause severe pain.
"They are artificially made to be sick," the Westdeutsche Allgemeine Zeitung quoted study leader Christoph Then as saying.
Some experts, on the other hand, call genetic tests essential for science.
"Genetic tests on animals are still vital for research," said Johannes Beckers of the Institute for Experimental Genetics.
Mice are therefore key for research because "95 percent of their genes are the same as those of humans," he said.
"We are still finding new biological processes, which are often the basis for curing diseases. There are currently no newly-approved drugs that have come forth without animal experiments.
In the 1980s, AIDS [patients] were associated with a life expectancy of one year. Today it is a treatable chronic disease," he added.
You can share this story on social media: