New Nauru Files leak exposes horrifying abuse of kids at Australia's island detention centers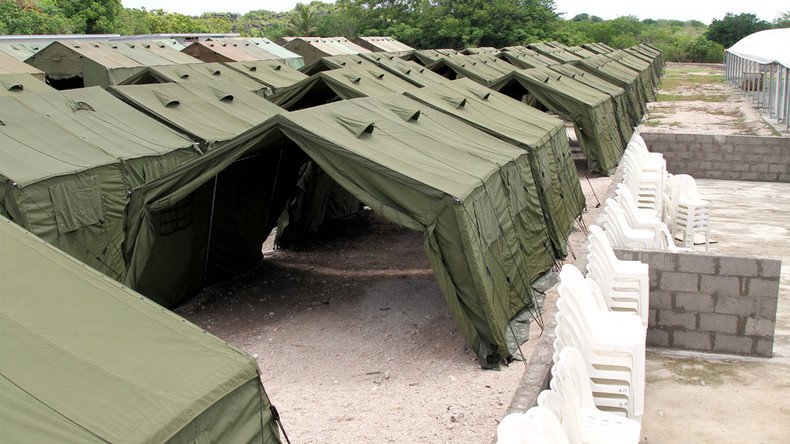 The realities of Australia's controversial method of dealing with refugees has been exposed in 8,000 pages of leaked documents that reveal systematic child abuse on Australia's offshore detention island Nauru.
The Guardian received the leak from inside the detention system which exposes more than 2,000 reports detailing assault, sexual abuse, self harm and unfit living conditions, half of which concern children. It provides a damning case against the Australian government for failing to act on previous reports or to properly care for those under its detention.
While a 2015 investigation by the Australian Senate into the Nauru detention center revealed worrying conditions for refugees, including incidents of sexual assault and self-harm, new revelations provide a greater scale to the problems at the offshore site.
The leaks reveal 1,086 incidents involving children, who make up only 18 percent of Nauru's 442 detainees. There are 59 reports of assault on children within the files.
Perhaps the most chilling reports come from incidents of children acting abnormally, likely as a result of trauma and their internment.
One girl sewed her mouth shut, and a guard reacted by laughing. Another girl pointed to her vagina and said a male detainee "cut her from under."
Thirty cases of self-harm in children were reported, and over 150 cases of threatened self-harm in children.
In one incident, a teacher reported that a girl requested increased shower times. "Her request has been accepted on condition of sexual favours. It is a male security person. She did not state if this has or hasn't occurred. The security officer wants to view a boy or girl having a shower," the report reads.
The revelations coincide with the findings of the Australian Senate which revealed a number of attempted suicides and incidents of children self-harming. It also described overcrowding and unhygienic conditions in Nauru, with cases of typhoid and TB reported. Impetigo and lice along with vermin and insects have spread around the island.
Australia's second detention island, Manus, holds more than 800 men. It too has seen controversy, with detainees reporting abuse and neglect. Australia's Christmas Island also houses refugees and has seen riots, fires and hunger strikes by refugees attempting to protest conditions.
The three islands are difficult to access, and are known to be uninviting to reporters.
Doctors working in immigration centers challenged the Australian government's Border Force Act in July, due to Section 42, which prevents "unauthorized disclosure" about camp conditions. Violators can face two years in prison if they break the rule.
"Doctors are obliged to put their patient's interests above all other interests and to advocate for public health," Dr Barri Phatafod said. "No one should expect any less from their doctor, or from the medical profession as a whole."

A spokesperson from the Department of Immigration and Border Protection responded to the Nauru leak, telling the Guardian: "Alleged incidents within the regional processing centre are investigated and where appropriate referred to the Nauru police force (NPF) for investigation. Refugees living in the community are encouraged to report all incidents of assault to the NPF."

"The Australian federal police has deployed officers to work alongside the NPF and build their capacity to investigate complex and sensitive incidents. Australia provides comprehensive medical support services to the regional processing centre in Nauru and to the Nauruan government health facilities."




You can share this story on social media: