Lion confined after mauling Canadian zoo employee, staff in shock
Published time: 8 Aug, 2016 19:24
Edited time: 10 Aug, 2016 11:43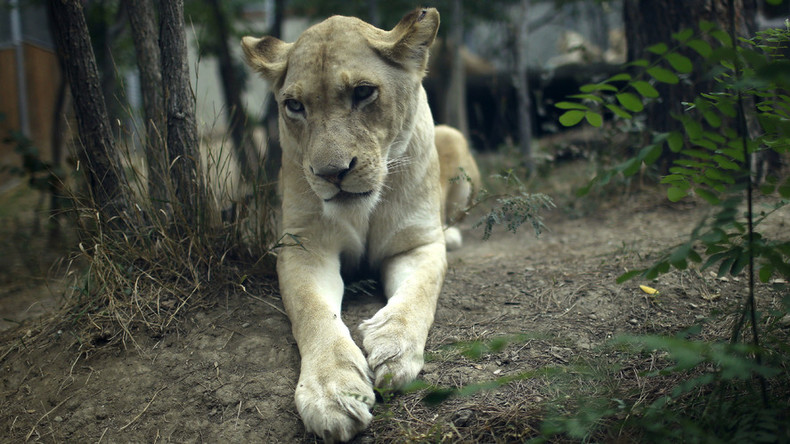 An employee at the Canadian Granby Zoo located east of the city of Montreal suffered serious injuries as she was attacked by a female lion. The animal was confined, a zoo official said adding that the zoo staff is in a state of shock.
One of the zoo's three lions assaulted a female worker Monday morning as she was preparing to feed the animals and entered the lions' enclosure. The zoo was not yet open to the public at that time.
The animal backed off when another employee came to the worker's rescue, using a fire hose. The woman suffered a cervical fracture and several cuts on her back. She was immediately hospitalized. Stephan Scalabrini, head of Granby's ambulance services, said the woman is now in stable condition and conscious.
"The zoo community is in a state of shock because of what happened. We're following her state of health very closely," the zoo's director general, Paul Gosselin, told Canadian media. He also added that the woman and other employees will receive psychological help.
The regional workplace safety board is now investigating the incident. In the meantime, all zoo lions were isolated. According to Gosselin, there is no danger to the workers or visitors.
"We're an accredited zoo, and we have very, very precise procedures when we work with dangerous animals like felines," Gosselin told Montreal Gazette, adding that it was the first such case in the zoo. The zoo is "still trying to understand" the causes of the incident, he also said.
The director general added that the zoo plans to contact the US experts before taking a decision about how to proceed with the lion.
The lion attack in the Canadian zoo follows several incidents, involving zoo animals. In May, a boy fell into a gorilla enclosure and the zoo workers had to kill a male gorilla to protect the child.
The incident provoked a wave of public indignation at that time as thousands signed petitions condemning the killing of the animal and calling the boy's parents to be investigated.
In July, a girl was killed at a Moroccan zoo when an elephant threw a rock at her, hitting her on the head.