Western leaders 'too slow' on countering Russia – top NATO general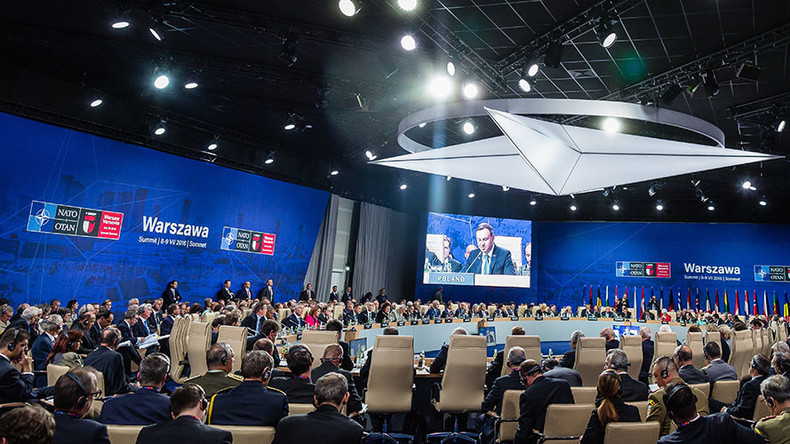 Politicians in NATO states are too slow in making decisions on confronting Russia, one of the bloc's top military chiefs has complained. The hawkish remarks come after Moscow said it had offered to return to the table in a bid to ease tensions.
Securing consensus among NATO political leaders on how to confront Russia takes too long, and is in sharp contrast with troops, who are ready to deploy at short notice, said General Denis Mercier, head of the Allied Command for Transformation (ACT), one of the two top military positions in the bloc.
"It's one of the lessons from Ukraine," Gen Mercier told the Financial Times. "High responsiveness relies on two points. On the military side it relies on the ability to operate very quickly. But it also relies on responsiveness in political decisions."
Heads of NATO states failed to act as rapidly as the troops, the General complained: "We can have forces ready to deploy in 24 hours but they are only going to do that if the [North Atlantic Council] gives them the order."
The North Atlantic Council (NAC) is NATO's governing political body in charge of making decisions on deployment of troops, and every proposal has to be voted for unanimously.
Relations between Moscow and NATO have nosedived since Crimea's reunification with Russia and the outbreak of the Ukrainian crisis in 2014. Though Russia repeatedly denied any involvement in the conflict in Eastern Ukraine, the bloc has launched a massive military build-up in Eastern Europe.
Gen Mercier complained the bloc's performance in intelligence gathering and speedy action required "rethinking." In February, NATO defense ministers were presented with hypothetical scenarios of incidents in Lithuania, including "a cyber-attack on key infrastructure that was hard to attribute," "a blockade by Russia of the port of Klaipeda" and riots staged by "agents linked to Moscow."
'Absurd': Russian envoy to NATO ridicules allegations of plans to invade Poland

His remarks come just days after Moscow said it is ready for constructive dialogue with NATO. Anatoly Antonov, deputy defense minister, said last Monday that Russia has invited NATO military experts to discuss European security and proposed a number of measures to combat terrorism and defeat Islamic State (IS, formerly ISIS/ISIL).
He also stressed that Moscow is willing "to avoid incidents at sea and in the air, based on bilateral agreements and consultations with the defense ministries of Latvia, Lithuania, Estonia, Poland, Sweden and Finland to address mutual concerns over military activities in the border areas."
Russia's leaders and top officials have consistently said that Moscow has no plans whatsoever to invade NATO states and that such scenarios are surreal. "I think that only an insane person and only in a dream can imagine that Russia would suddenly attack NATO," President Vladimir Putin told Italian media last year.
Some influential European voices have also denounced NATO's Eastern European build-up, calling instead to seek dialogue with Moscow.
In June, German Foreign Minister Frank-Walther Steinmeier said the bloc's "saber-rattling and warmongering" does not help build security in Europe, while Gerhard Schroeder, the ex-chancellor, ridiculed the idea that Russia "may be nurturing a plan to invade NATO-countries" as it does not match reality.
But NATO's top military brass continue to claim that Russia's military capabilities are on the verge of exceeding those of the bloc, calling on members to spend more on defense. If NATO's European members fail to do so in the coming months, "the credibility of our entire posture will be at stake," Gen Mercier said.
"We are on the right track … but we need the budget and the manpower," he added. "We need a lot more high-end capabilities – more war-fighting and responsive capabilities."
You can share this story on social media: