Ukrainian volunteer unit troops raped underage girls, filmed it on phones – MP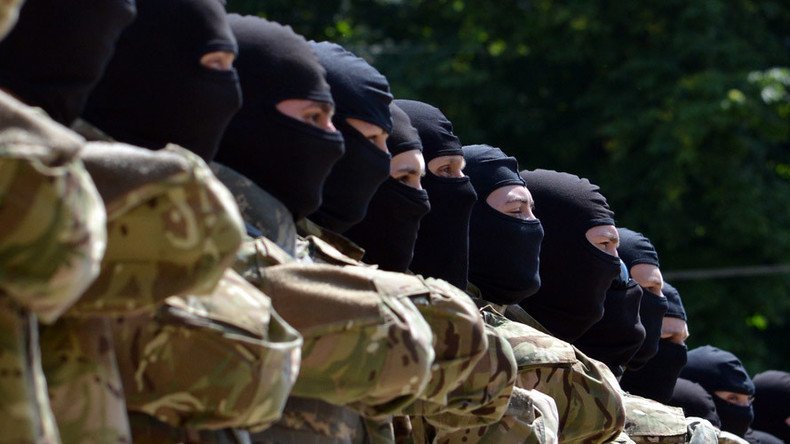 The mobile phones of commanders of the Tornado volunteer unit, which fought for Kiev in the conflict in eastern Ukraine, contained footage of rape of underage girls, Ukrainian MP, Tatyana Chronovol, has said.
"When the Tornado commanders were detained, their mobile phones were seized. There was some scary footage on those phones… footage of sex orgies and rape," Chronovol said in an interview with Ukrainian broadcaster 112.
READ MORE: Ukrainian Neo-Nazis mark anniversary of Galicia SS division with torchlit march (VIDEO)
"There were even babies. As I understand the baby's mother was forced to do this under the threat of death of her child," the Verkhovna Rada deputy stressed.
"There were rapes of underage girls" in the videos Chronovol said.
The shocking videos are now part of the case against the volunteer unit's fighters, she stressed.
"They are not people, but animals," the MP said of the Tornado troops and officers.
Chronovol represents the Narodny Front (People's Front) party, which is the second largest in the Ukrainian parliament, forming a ruling coalition with President Petro Poroshenko's Block.
Ukrainian prosecutors announced the arrest of eight fighters from the Tornado unit in mid-June.
They were charged with the kidnapping and torture of local residents in the suburbs; looting and gang raping a man in the suburbs of the town of Lisichansk in the south-eastern Lugansk Region.
According to the investigation, the volunteer troops installed a torture chamber in the basement of one of the local school buildings.
The Tornado unit was formed in October 2014 as part of Ukrainian Interior Ministry. It was linked to the Shakhtersk volunteer battalion, which was disbanded for systematic looting.
Atrocities committed by the nationalist volunteer battalions during the Ukrainian conflicts have been well-documented by international human rights groups and condemned by the United Nations.
READ MORE: Crimes of Ukrainian Aidar battalion confirmed in Amnesty Int'l report – Russia
In spring 2014, the Ukrainian military was sent to the south-east of the country after people in Donetsk and Lugansk Regions refused to recognize the new coup-imposed government in the capital.
Nearly 9,500 people were killed and over 22,100 injured during the two years of fighting, according to UN data.
You can share this story on social media: