64yo adventurer & record-breaker to fly to stratosphere & descend into Mariana Trench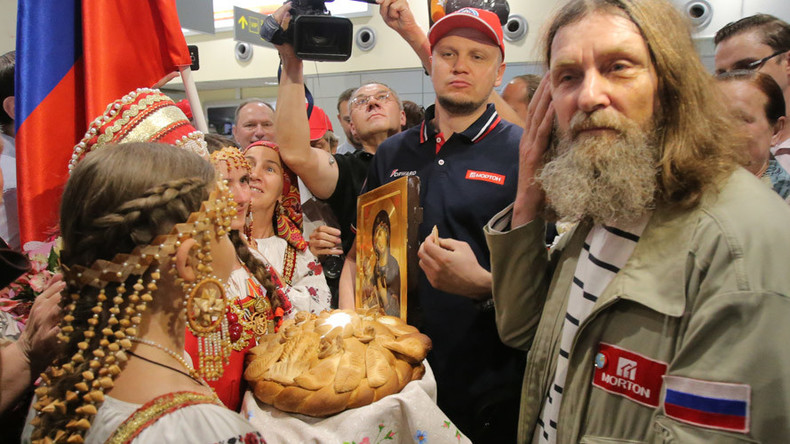 Record-breaking Russian adventurer Fedor Konyukhov who just finished a nonstop solo balloon flight around the globe in just 11 days, is planning to rise right into stratosphere and descend into the deepest place on Earth - the Mariana Trench.
"The next big (expedition) plans are to rise into the stratosphere at five kilometers and dive into the Mariana Trench which is [approximately] 11 kilometers [deep]" Konyukhov told journalist at Moscow's Domodedovo airport as he returned from his solo balloon journey.
On Wednesday he described his planned trip into stratosphere during a press conference.
READ MORE: 64yo Russian adventurer circles globe in balloon in 11 days, breaking world record
"Preparation will last for nine months. Next year I'm planning to climb up to 25,000 meters; the current record is 21,300 meters and it belongs to an Indian. We want to beat it... This will be the biggest balloon ever built on earth."
The stratosphere is the second major layer of Earth's atmosphere. Starting at 10 kilometers above the Earth's surface, it ends at around 50 kilometers and generally has low temperatures.
The Mariana Trench is the deepest point known on Earth. Located in the Pacific Ocean, it reaches a maximum-known depth of 10,994 meters.
Konyukhov broke a world record in July after managing a nonstop solo balloon flight around the globe in just 11 days. He covered some 34,000 kilometers, at altitudes up to 10,000 meters. The adventurer started his record flight from the town of Northam in Western Australia and landed in the Wheatbelt region of Western Australia.
The adventurer, who is also a Russian Orthodox priest, is the only person to have reached such extreme points of the planet as the North Pole (three times), the South Pole, the Pole of Inaccessibility in the Arctic Ocean and the top of Mount Everest (twice). He has also sailed around the world via Cape Horn.
In 2002, Konyukhov set a world record by crossing the Atlantic Ocean on a seven-meter rowing boat, the Uralaz, in 46 days and four hours. The record remained intact for 11 years.
He was also the first Russian mountaineer to complete the Seven Summits Challenge, for which a person must climb the highest mountains of each of the seven continents.
In 2014, the Russian adventurer finished a solo-rowing voyage across the Pacific Ocean, reaching the Australian coast after a 162-day trip.