Jihadists in Aleppo claim siege breach, but suffer heavy losses & setbacks according to Syrian govt
Published time: 7 Aug, 2016 02:21
Edited time: 24 Aug, 2016 07:04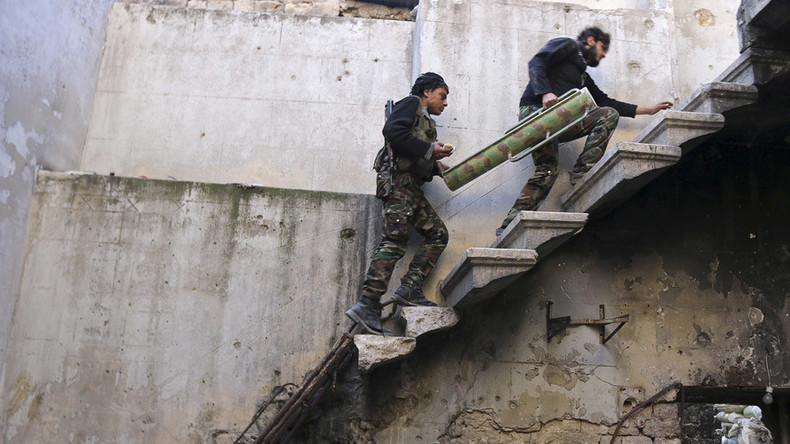 Fighting in Aleppo has intensified. A coalition of radical Islamist groups are claiming success in breaching the siege, while government forces say that rebels suffered heavy losses in their vain attempt to seize a major government military complex.
Government forces engaged Jabhat Al-Nusra and its affiliates in a fight for control of the Ramousah military complex which includes a number of military academies in the southwestern outskirts of Aleppo, near the town of Ramuseh.
"Takfiri terrorist groups … renewed attacks along the axis of the academies with large numbers," Syria's official news agency SANA reported, citing a source on the ground. After a day full of fighting, the attacks were reportedly repelled with the use of the air force and artillery, as terrorists suffered "heavy losses" in "fierce clashes" for the complex after some fighters broke through army lines.
The Syrian air force, the report specifically noted, was instrumental in isolating "with fire control the operations area in the surroundings of the military academies" to support the army's push for "clearing the posts the terrorist groups earlier infiltrated." The air support was also crucial in curbing the terrorist groups' push onto southwestern Aleppo.
The offensive against the military complex began Friday as extremists tried to break out of the encirclement of government forces that was imposed last month. Taking control of the complex and securing the town of Ramuseh, with a large government arsenal, would enable the terrorists to break the siege from the eastern side of the government controlled parts in western Aleppo. It would also cut the Syrian army's link with the southern route out toward the capital Damascus.
As the battle raged, two terrorist groups said that they had broken the government's siege. Al-Nusra Front, which recently rebranded itself into Jabhat Fatah al-Sham, said in an online statement that "fighters from outside the city met their brother fighters from inside the city, and work is under way to establish control over remaining positions to break the siege."
Meanwhile another commander, from what Reuters called a "more moderate rebel group," told the agency that the siege had been broken but said the matters were "not easy." Reporting no other successes by the rebels, Reuters noted that the ongoing battle means that even if any passage was opened it "would be far from secure."
According to China's Xinhua's military source, intense battles are ongoing on all fronts in southern Aleppo, with the army declaring the area as an "open military zone."
READ MORE: Stash of US-made heavy weapons found in terrorist-held Aleppo district (VIDEO)

There are over 250,000 civilians living under siege in Aleppo's terrorist-controlled areas. To aid their suffering Moscow and Damascus launched a large-scale humanitarian operation last week, opening three escape routes for civilians and one for militants wishing to lay down arms.