Russian Olympic team fans house robbed during Rio 2016 opening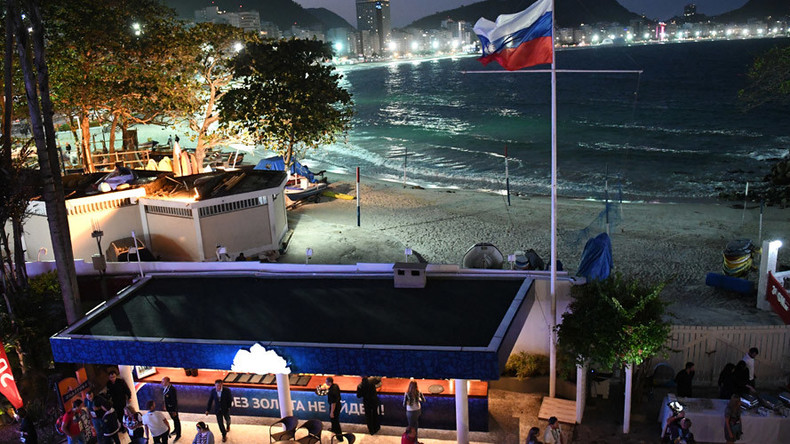 The Russian Olympic Team's fan house has been robbed during the Rio Games opening ceremony, Russian media reports, citing officials. No one was hurt in the incident but the burglars who stole expensive electronic equipment are still at large.
"The Russian Olympic Team Fans House has been robbed during the Olympic Games opening ceremony, Three laptops and a camera have been stolen," Anastasia Grigoryeva, the head of the facility's press service, told TASS, adding that police already launched an investigation into the incident. Her words were confirmed by the head of the Fans House, Oleg Rumyantsev, who told Ria Novosti that "some equipment was stolen from a technical zone during the changing of the guard."
"None of the fans were harmed and the fans' belongings also remained intact," he added, stressing that officials toughened security after the incident and set up additional guarding posts and place some additional CCTV cameras on the facility's territory.
Police officers are now examining the footage from CCTV cameras and investigating the crime scene, Russia's Izvestia daily reported. The local security guards provided to the facility by the organizers of the Rio Olympics "did not notice anything," the paper added.
According to the Russian delegation, there were few foreign guests in the House during the opening ceremony.
The House's spokeswoman also stressed that the venue continues to operate as usual. "We are continuing our work despite everything and our doors are open for everyone. We hope that there will be many guests in our House to greet our champions," Grigoryeva added.
READ MORE: Judo brings Russia first gold at Rio Olympics
Russian Fans House was opened on August 4. It is located near the Copacabana Fort, which is the Brazilian army history museum, situated at the southern end of the famous Copacabana beach.
It is located on a special fenced territory with only one entrance. The Russian Olympic Committee said it will send its own guards to the Fans House in addition to those provided by Brazilian authorities, Izvestia reports.
The robbery is not the first such incident. Earlier, Chinese journalists reported the alleged theft of the expensive cameras and recording equipment, which was reportedly stolen from their hotel room.
On Friday, British Olympic team also said that nine its kit bags, containing clothing and equipment from a range of sports, have gone missing at the Olympic Village in Rio. It is yet uncertain if the bags have been stolen or were lost in the transfer from the holding camp.
You can share this story on social media: