Over 100 migrants clash with police, break through Italy-France border (VIDEO)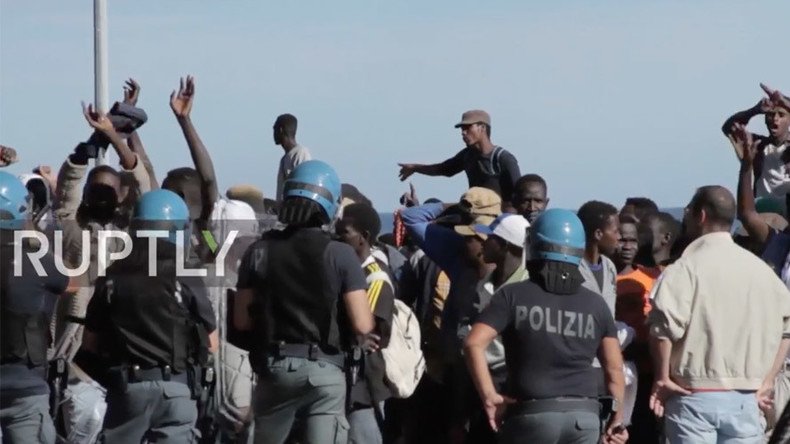 A crowd of migrants took Italian and French police "by surprise" after rushing to cross the border near Ventimiglia. Some 100 people managed to make their way across the rocky shore, according to authorities, who used pepper spray to contain the breach.
On Friday a group of some 150 migrants on the Italian side launched a protest against the closure of the border, as others desperately tried to make it across into France. On the other side, in the French town of Menton, gendarmerie tried to chase back or block those who made it across. Police confronted the crowd using pepper-spray.
"Both the Italian and French forces at the border were taken by surprise," Ventimiglia police commander Giorgio Marenco told Reuters.
Migrants, mostly Sudanese, Eritreans and Ethiopians, arrived from Sicily to Ventimiglia with the hope of continuing their journey to France and northern Europe. However, they were blocked at the border between Italy and France, in Ventimiglia, the last train station before the Italian-French border.
Stuck in limbo, with no access to any type of services or any proper reception centers, the families, including pregnant women and children, were forced to sleep outside at a 'No Border' makeshift camp on the rocks near Ventimiglia.
As Friday's clashes erupted some migrants moved away from the group at Balzi Rossi beach to try to reach France by walking along the rail tracks. On their journey there, one teenager was hit by a train. He was transferred by helicopter to the San Martino Hospital in Genoa where he remains intubated and in a serious condition.
Following the clashes, "No Borders" activists posted a message on Facebook, saying that police did not move to evict the migrants, as long as they let traffic through and do not cause any more disturbances.
Meanwhile the group that managed to cross the border remains under the surveillance of the French police, according to Marenco, while local French authorities did not comment on the situation.
You can share this story on social media: