Indonesia police foil 'ISIS-linked rocket attack' on Singapore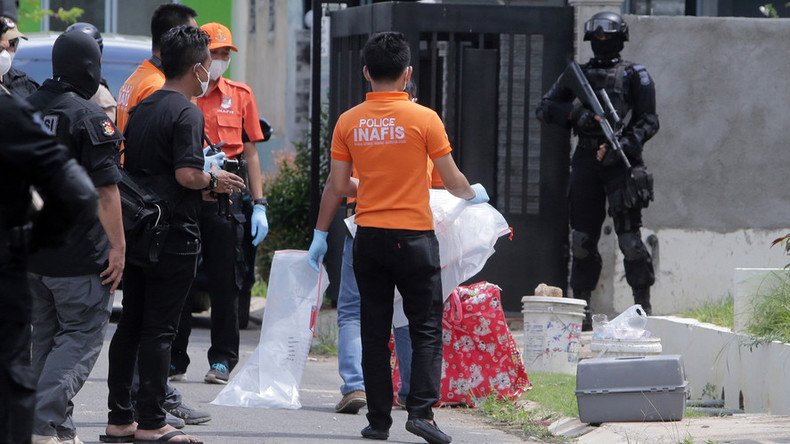 Counter-terrorism police in Indonesia have arrested six men suspected of having links to Islamic State for allegedly plotting a rocket attack on Singapore's "vital objects and busy areas."
The men were captured on Batam island, just 15 miles (24km) southeast of Singapore. The Batam Pos daily quoted police as saying the suspects, all Indonesian, were mostly factory workers, aged between 19 and 46, Reuters reported.
Singapore's Ministry of Home Affairs (MHA) said in a statement it was aware of the attack plot: "Our security agencies have been coordinating closely with the Indonesian authorities since the discovery of this attack plot, to monitor the activities of the group and to apprehend those involved."
Indonesian police spokesman Agus Rianto told reporters the suspects had teamed up with a member of Islamic State (IS, formerly ISIS/ISIL) in Syria.
"We have strong indications that the six men were planning to launch a rocket at Singapore's Marina Bay from Batam," the spokesman said, according to AP, referring to a busy area packed with waterside restaurants and tourist attractions.
"What we understand so far is that they were planning to attack vital objects, busy areas including police offices," Rianto told Reuters.
Asked whether police had recovered any physical evidence of a rocket attack, Rianto replied "not yet."
Police said the six men are suspected of having links to Bahrun Naim, an Indonesian believed to be a high-ranking member of IS.
According to Indonesian investigators, Naim was one of the masterminds behind the mid-January terrorist attack in the Indonesian capital, Jakarta, in which eight people were killed - four of them attackers.
Naim was also linked to a suicide bombing outside a local police station in the city of Solo in early July. The bomber, who was killed during the attack, had been taught to build explosive devices by Naim, the Straits Times reported.
Security experts in Indonesia fear that Naim, along with other Islamic State leaders, has recently switched focus from the fight in the Middle East to attacks at home, Reuters reported.
Islamic State's intelligence service, called Emni in Arabic, has already sent fighters to Austria, Germany, Spain, Lebanon, Tunisia, Bangladesh, Indonesia and Malaysia, the New York Times reported, citing the accounts of operatives who have been arrested.
"One thing I think is clear is Bahrun Naim has been able to establish a lot of communication with a lot of people through his social media network," Jakarta-based security analyst Sidney Jones told Reuters.
You can share this story on social media: