ISIS announces Asia pivot in propaganda video targeting Malaysia, Philippines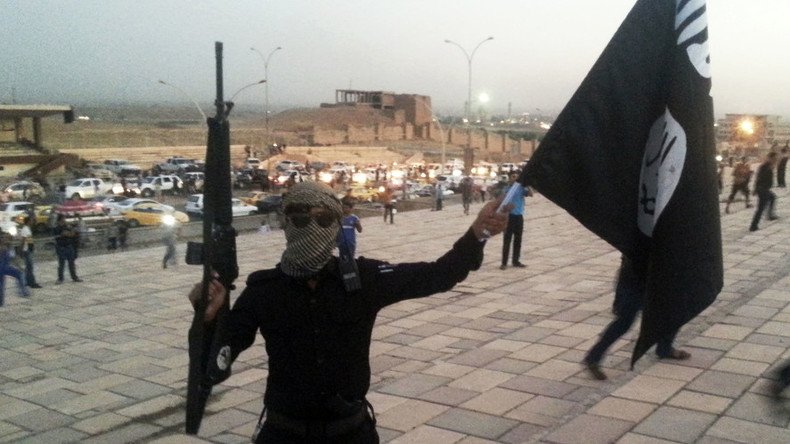 Islamic State terror group has called on its followers to focus their energy fighting in Southeast Asia besides battling in Iraq and Syria. In the latest propaganda video, the organization specifically calls on extremists to target Malaysia.
The latest video, titled 'Toghut' (sinners against the teachings of Allah), was released earlier this week and shows a Malaysian Islamic State (IS, formerly ISIS/ISIL) fighter in Syria, along with two other IS combatants decapitating three captives. The Malaysian terrorist, identified as Mohd Rafi Udin from Negri Sembilan, threatens attacks against Malaysian police in the 20 minute video seen by Reuters.
READ MORE: Indonesia snubs Saudi 'anti-terror' coalition... then its capital gets hit
The jihadist says in Malay that those fighters who cannot make it to Syria should travel to the Philippines and fight there. Udin calls on jihadists to unite under the leadership of Abu Abdullah, a Philippine extremist leader of Abu Sayyaf militant group, who swore allegiance to IS in January.
Abu Abdullah, also known as Isnilon Hapilon is on the FBI's most wanted list with a bounty of $5 million on his head.
READ MORE: 'ISIS expanding beyond its geographical area of operations'
Malay's Special Branch Counter-Terrorism Division (SB-CTD) called the latest propaganda video a threat that will most likely materialize in attacks in the region.
"We are preparing for potential attacks within six months by two sources, Khatibah Nusantara in the Philippines, and central IS," Ayob Khan Mydin Pitchay, director of the Malaysian Police Counter-Terrorism unit told the New Straits Times.
Katibah Nusantara is referred to by the counter-terrorism chief as a "dedicated Southeast Asian military unit" under IS. Besides Abu Sayyaf militant group and Katibah Nusantara, authorities are also worried that more extremist organizations in the region might now unite under Abdullah's command.
Just like Abu Sayyaf, the Abu Dujana Brigade, Abi Khabib Brigade, the Jund Allah Brigade, and Abi Sadr found in the region have also pledged their allegiance to IS and its self-proclaimed 'caliph', Abu Bakr al-Baghdadi.
"Targeted attacks will likely be carried out the minute the pledge of allegiance to IS from these groups outside Syria is accepted and the areas they operate in are declared theirs," Pitchay said.
The director added that IS is shifting its focus to the Southeast region to show to the world that it is still a force to be reckoned with, as the organization continues to lose its foothold in Syria and Iraq. While authorities admitted, that the threat is not new it looks imminent to them.
"This video is not just propaganda but is a serious threat. We are definitely expecting more attacks in this region," Pitchay told Reuters.
"This is not the first video of its kind. But I would like to say here that PDRM [Royal Malaysia Police] will never let IS set foot or spread their ideology here," Malaysian Inspector-General of Police Khalid Abu Bakar said on Friday. "We are not shaken by threats like these made by IS."
You can share this story on social media: