'Terrorist International': ISIS has 33,000 combatants, strives for global reach – top GRU official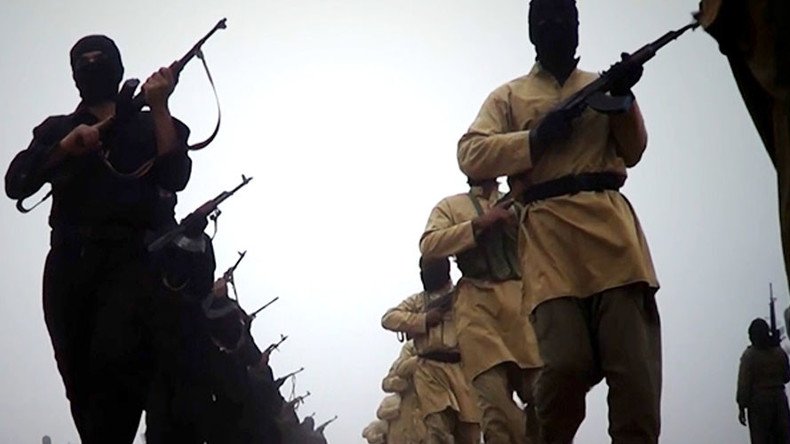 ISIS has considerable manpower, heavy armor and air defenses in the Middle East and is striving to extend its reach into Europe, Africa, Central and Southeast Asia, hoping to become a "Terrorist International," a senior Russian military officer warned.
"The overall strength of Islamic State's (IS, formerly ISIS/ISIL) groupings reaches around 33,000 militants, including 19,000 in Iraq and 14,000 in Syria," deputy director of Russia's Main Intelligence Directorate (GRU) Sergey Afanasiev said during the Moscow International Conference on Security on Wednesday.
IS militants are well-armed with "tanks, armored personnel carriers (APCs), anti-tank and anti-aircraft missiles including man-portable air-defense systems," he emphasized.
The Moscow International Conference on Security was hosted by the Russian Defense Ministry. This year's edition gathered high-profile military and diplomatic delegations from 80 countries to address pressing challenges to international security, such as global terrorism.
Russia was represented by Defense Minister Sergey Shoigu, Chief of Staff Valery Gerasimov, the country's military leadership and Foreign Minister Sergey Lavrov.
"Terror threats in Europe have significantly increased," Afanasiev continued, noting that the EU nationals who went to the Middle East to fight alongside IS, are now coming back, "ready to utilize their experience."
According to GRU's assessment, more than 800 jihadists have returned to Germany over the past four years, with a "tense situation persisting in areas inhabited by Islamic diasporas in Austria, Belgium, France and other Western European countries."

"Moreover, they try to finance their activities … by running illegal migration and drug trafficking routes to Europe."
Besides Europe, IS deliberately advances into Central Asia, where the security environment appears to be volatile because of the low-intensity conflict in Afghanistan. "Islamist leaders strive to gain ground there by using the region's conflict potential and stirring up inter-ethnic and inter-faith discord."
IS is building up its units in the region and set up a whole network of training camps all across Afghanistan and beyond, Afanasiev warned.
He noted that Islamic Movement of Uzbekistan, Hizb ut-Tahrir, Laskhar-e-Tayba and other Islamist factions have already pledged their allegiance to IS.
"The overall strength of IS-linked groups, which are formally independent, is around 4,500 militants."
In Africa, Islamic State relies on its ally, Boko Haram, a 8,000-strong Islamist group in Nigeria. In Mali, Algeria, Mauritania and Niger, Al-Qaeda-linked groupings tend to compete with IS for money and influence.
"In the meantime, if they would manage to negotiate a deal on specific matters, we cannot rule out creation of a 'Terrorist International'."
But another pressing challenge that arises is Islamic State's pivot towards Southeast Asia, the senior GRU officer explained. "IS' leaders are looking forward to include into Caliphate territories of Brunei, Indonesia, Malaysia, Singapore, Thailand and the Philippines," thus extending their influence "over the entire region with the population of over 250 million Muslims."
The international community has to unite forces and get rid of "politicized bloc-centric approach to combating terrorism," Afanasiev added, as its success or failure will largely depend on a collaborative effort of all the countries concerned.
You can share this story on social media: