Video shows men in Paris torching bus, reportedly shouting 'Allahu Akbar'
Published time: 3 Aug, 2016 21:30
Edited time: 24 Aug, 2016 06:47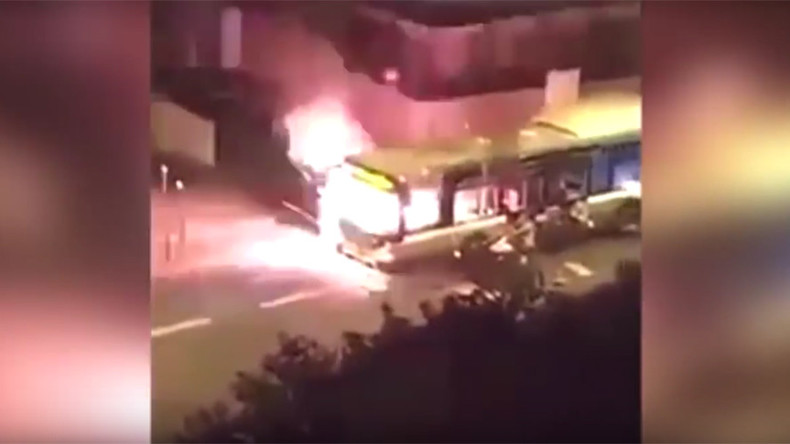 Footage has surfaced showing a group of young men setting a bus alight with Molotov cocktails after blocking its way with makeshift barricade in Paris. The perpetrators were reportedly heard shouting 'Allahu Akbar'.
The footage, which started to spread on social media on Wednesday, shows the attack that occurred in the Paris suburb of Saint-Denis last week.
A group of young men is seen rolling trash containers to the midst of the road in front of an approaching bus to "set up a trap to force the bus to stop," police said, as cited by L'Express.
In the video, which was presumably shot from one of the nearby buildings, the attackers are heard shouting "Allahu Akbar" (God is Great, in Arabic).
After bringing the vehicle to a halt, the assailants forced the driver and five passengers out. The men then start kicking the bus and smashing its windows, before finally throwing Molotov cocktails at the vehicle, causing an explosion and a massive fire. Three water cannons were dispatched to the scene to tackle the blaze. No one was injured in the incident.
"This act of premeditated vandalism, the consequences of which have been tragic, follows an attempted homicide on a worker by a Molotov cocktail on July 22 and buildings being looted," Saint-Denis mayor Didier Paillard told Le Parisien.
Police have launched investigation into the incident, but the motives behind the attack remain unknown.
The situation in the area was "tense for several days" after a recent death of 24-year old Adam Traore, SudInfo reported citing police sources. Traore man died on July 19, after police allegedly applied "controversial arrest tactics" during his detention, 20Minutes reports. At this point no official links were made between the two cases.
The Saint-Denis district, known for a high immigrant population, has been a scene of similar unrest in the previous years. In 2005 massive riots swept through the area, with thousands of cars turned to ash. The following year, unease over the arrest of a teenager for attacking a bus driver led to more street protests and violence, eventually involving riot police. Several buses also came under attack in Saint-Denis in 2010, with one set ablaze with a Molotov cocktail while others torched.
The November 2015 wave of terrorist attacks in Paris also affected Saint-Denis. One of the suspected masterminds of the atrocities was killed in a standoff with police and army after he was located by law enforcement in the district.