Migrants beat each other with chairs in German refugee center brawl (VIDEO)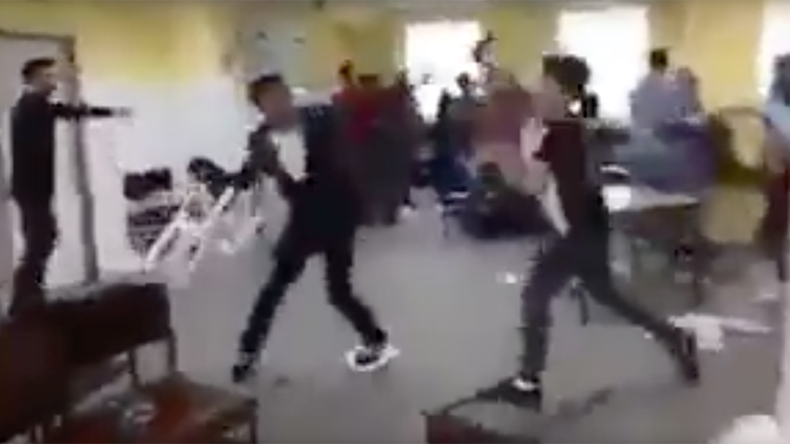 Three refugees were detained and five more treated in hospital after a vicious brawl broke out at a migrant center in the German city of Dortmund. Police have launched a criminal investigation but are still puzzled over the exact cause of the violence.
Scenes similar to an all-out street fight first appeared in a video on Facebook, which was then shared on other social media platforms. The footage shows men and a woman punching and kicking one another. Some of those involved are seen in the footage smashing chairs over the backs of fellow migrants.
Only eight refugees, aged between 14 and 37, who were apparently involved in the incident, were present at the scene when the police arrived. Some of them were then treated in hospital.
"Five participants – a 33-year-old woman among them, as well as four males (19, 21, 26 and 37) were admitted to a nearby hospital for treatment of minor injuries," a police statement reads.
The fight happened on August 1 in a waiting room at the migrant center located in the Huckarder Strasse, which is in charge of processing asylum requests. Police however officially confirmed the incident only the following day.
"Several people apparently clashed with each other in the waiting room. A verbal dispute escalated into a physical brawl," police said, adding that "chairs were also used." The fight was then broken up by "security staff and employees of the center," German outlet Focus reports, citing migrant center representatives.
In the wake of the brawl, police briefly arrested two underage refugees and one adult at the site. "Officers detained three young men (14, 15, 20). They were set free after the questioning was completed," police stated.
A criminal probe was launched, although as of yet police have not released further details on what caused the verbal dispute and the ensuing fight.
The nationalities of those involved are also not being disclosed. The press office of the migrant center has not issued any details on the cause of the incident.
Citing its own sources, Focus reports that the Ministry for Migration and Refugees "will now inspect the security situation at the center in Dortmund."
In May this year a massive brawl between Iraqi Yazidi and Chechen migrants erupted near an accommodation facility in the German city of Bielefeld. Sticks and knives were used in the fight, with five people sustaining serious injuries.
Last year German police warned the country may face increasing outbreaks of violence in camps housing asylum seekers. "We're running the risk that the situation in refugee accommodation will get out of control," German police union chief Rainer Wendt told Bild newspaper at that time.
"Our experience suggests that in many places there are, unfortunately, very targeted and well-prepared violent clashes with ethnic or religious motivations almost every day," he went on to say. A similar warning came from Interior Minister Thomas de Maiziere.
Germany accepted over a million refugees in 2015. The number is however in decline this year according to the Ministry for Migration and Refugees.
You can share this story on social media: