Over 200 asylum seekers clash in German refugee center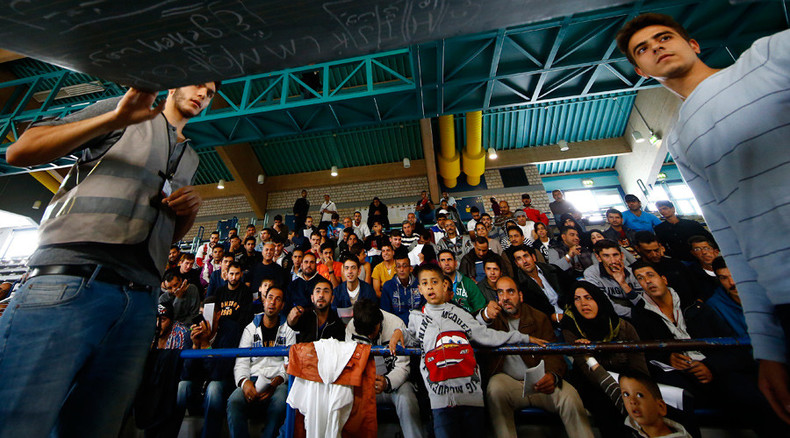 More than 200 refugees engaged in a mass brawl in a shelter in the German city of Hamburg, leaving several people injured in a third such incident in Germany this week.
A scuffle between two large groups of Syrians and Afghanis broke out in a crowded refugee center in Hamburg on Wednesday and lasted all through the day till late night, according to local media.
The groups were attacking each other with iron bars and wooden pieces of furniture as well as were throwing rocks. The refugees have also set a dustbin on fire.
Four people were injured in the clashes. Two teenagers, 16, suffered lacerated head wounds with one 18 year old man and a member of a security service being also injured, the German newspaper Bild reports, citing police sources.
Police had to bring in as many as 50 officers to take the situation under control and managed to stop the fighting by 2 a.m. with the police patrols still present at the scene on Thursday morning. The investigators are now questioning the witnesses.
According to police reports, the causes of the brawl are yet not clear, with no arrests made so far.
One more scuffle occurred on Wednesday in another Hamburg's shelter, Bild reports. A quarrel between refugees broke out when one of them accused his neighbor of stealing his mobile phone. As a result, four people were arrested including the suspected thief, but later they were released.
The two scuffles in Hamburg were just the latest in a series of brawls in German refugee centers.
On Sunday, 300 Albanians clashed with 70 Pakistanis in a shelter in the town of Kassel-Calden in the German region of Hessen after two refugees had brawled over the dispensation of food. 14 people including three police officers were injured in that fighting, as reported by the German media.
Similar conflicts between refugees have recently taken place in the German cities of Suhl, Leipzig and Bonn, Der Spiegel reports, citing police sources.
The violence is often caused by the poor living conditions of refugees resulting from overcrowding, German police and human rights activists say.
"When about 4,000 people live in a shelter that could normally host only 750 people, overcrowding leads to aggression," the deputy Head of the German police labor union, Jörg Radek, told German Die Welt.
At the same time, many German cities are running out of their housing capabilities due to the unending mass refugee influx. In Hamburg, about 500 asylum seekers out of 600 that registered on Tuesday had to sleep on the streets near the city's main registration center as there was no place for them in the existing shelters.
Another 100 of them were accommodated in tents.
On Thursday, the Hamburg's local lawmakers are going to pass a law allowing them to seize vacant commercial property and turn it into the refugee shelters without the consent of the owners. The bill, called 'Securing the accommodation of refugees,' will compensate the property owners and declares that confiscations would serve only as temporary measures.
The bill has been approved in the first reading on Wednesday with 81 lawmakers voting for it and only 31 being against.
According to Zeit Online, four pieces of commercial real estate have already been seized by city authorities in Berlin and turned into refugee centers.
LISTEN MORE:
You can share this story on social media: