'Ground for barbaric attacks': Czech president speaks out against accepting refugees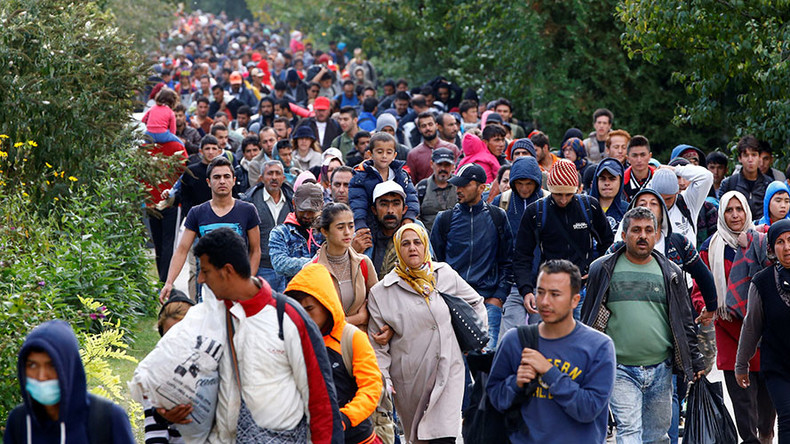 Czech President Milos Zeman believes that accepting refugees from the Middle East and Africa, to which the current government has agreed, will create conditions for German and France-style terrorist attacks in his home country.
"Our country simply cannot afford to risk terrorist attacks like what occurred in France and Germany. By accepting migrants we would create fertile ground for barbaric attacks," Zeman said, according to his spokesman Jiri Ovcacek, Reuters reported.
Though the president in the Czech Republic is sometimes compared to his counterparts in Hungary or Austria and regarded as a mere figurehead, the office in fact wields considerable authority in political affairs.
Zeman has been one of the strongest opponents to the decision made by the current government of Prime Minister Bohuslav Sobotka that agreed to accept 80 Syrian refugees from Turkish refugee camps in 2016 under a European Union agreement.
This is a tiny share compared to other European countries, with an estimated 31,000 Syrians having been accepted by Germany, 24,000 taken in by France and almost 15,000 that found shelter in Spain.
The recent terrorist attacks that rocked France and Germany over the weeks have only strengthened Zeman's opinion on the matter, Ovcacek said at a regular news conference.
"The president does not agree with any acceptance of migrants on Czech territory," Ovacacek added.
Sobotka stressed in a recent interview that his government's stance against uncontrolled migration remains firm. However, it's not right to enforce "collective guilt," thinking that "every Muslim is a terrorist."
The Czech Republic, along with Slovakia, Romania, Poland and Hungary, objected to the European Union quota system that planned to relocate 120,000 refugees from Italy and Greece to the rest of Europe. The scheme was accepted despite the disagreement voiced by the Central and Eastern European countries.
The Czechs, however, didn't challenge the plan in court as Slovakia and Hungary did, with the latter to hold a referendum on October 2 to ask people whether they agree to accept the EU quota system.
The Hungarian government is currently leading a media campaign aimed at raising awareness of negative consequences of accepting refugees and migrants. The campaign features a series of ads that start with a 'Did you know?' question and then give an answer providing various statistics – the number of women harassed since the refugee influx began, the number of people killed in terrorist attacks and so on.
Zeman is known for his bold statements and quite controversial positions.
In July, he also called for a referendum on the Czech Republic's membership of the EU and NATO. The call came after Britain made a historic decision to leave the bloc. The president noted that he wants his country to remain in both organizations, but people must be given a chance to "express themselves."
In January, Zeman said that "the integration of the Muslim community [into Europe] is practically impossible."
In 2015, he branded the influx of refugees from the Middle East and Africa into Europe as an "organized invasion," urging young refugees to go back to Iraq and Syria, "take up arms" and engage in the fight against Islamic State (IS, formerly ISIS/ISIL).
You can share this story on social media: