Russian scientists developing magnetic 3D bioprinter for space use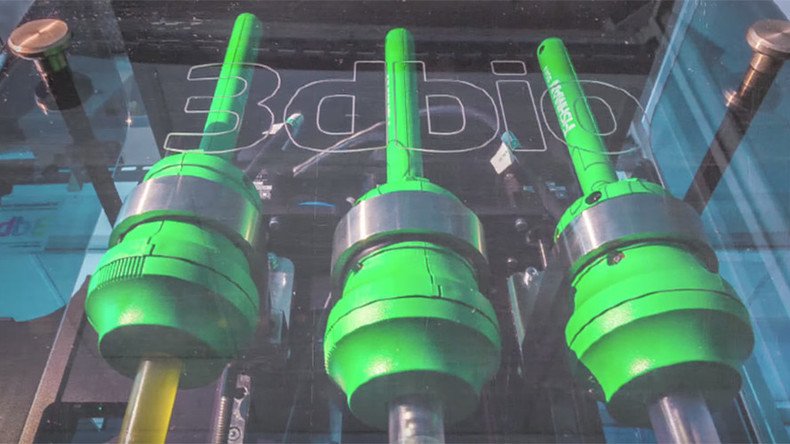 Russian scientists in cooperation with the national space agency are developing a magnetic 3D bioprinter that will allow production of living tissue in the micro-gravity conditions of the International Space Station.
The unique technology will be developed in partnership between the United Rocket and Space Corporation, part of the Roscosmos and 3D Bioprinting Solutions, a resident of the Skolkovo Innovation Center.
"The development of a magnetic bioprinter will allow printing tissue and organ constructs which are hypersensitive to the effects of space radiation – sentinel-bodies (eg, thyroid gland) – for biomonitoring of the negative effect of cosmic radiation in the conditions of a prolonged stay in space and for the development of the preventive countermeasures," 3D Bioprinting Solutions said in a press release after signing a contract with the space corporation on Monday.
The scientific team hopes to send the "unique" technology to the ISS by 2018. Scientists envision that in the long term the newly designed bioprinter could potentially be used to correct astronauts' damaged tissues and organs during long space flights. In addition, the company says the new technology could be used on Earth for the "faster" printing of human tissue and organs to save people's lives.
Announcing the new partnership, the United Rocket and Space Corporation's Director General, has called the endeavor "one more step" that will aid "human exploration of other planets." His colleague, the managing partner of the 3D Bioprinting Solutions, Youssef Hesuani believes that the technology will offer a "unique opportunity" to pursue "new approaches in tissue engineering and regenerative medicine."
You can share this story on social media: