France closed 20 mosques, prayer halls since December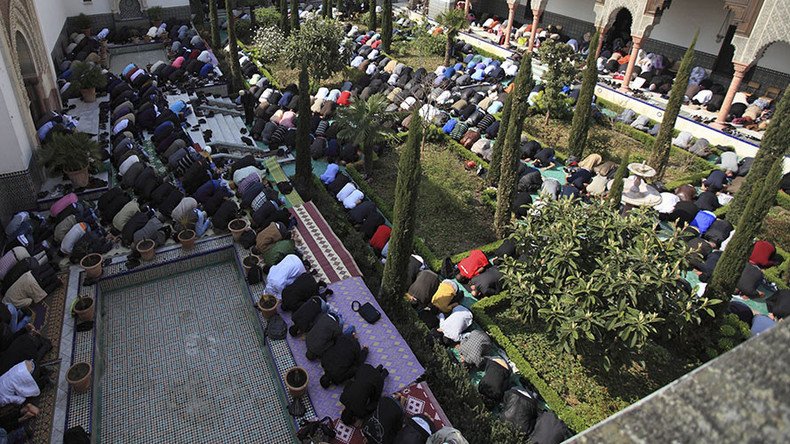 French authorities have closed around 20 mosques and prayer halls considered to be preaching radical Islam since December, according to the country's interior minister. He went on to promise that "there will be others."
"There is no place...in France for those who call for and incite hatred in prayer halls or in mosques, and who don't respect certain republican principles, notably equality between men and women," Bernard Cazeneuve said following a meeting with leaders of the French Council of the Muslim Religion on Monday, as quoted by AFP.
"That is why I took the decision a few months ago to close mosques through the state of emergency, legal measures or administrative measures. About 20 mosques have been closed, and there will be others," he continued.
Cazeneuve went on to state that 80 people have been expelled from France since 2012, and that dozens more deportations are on the way, without providing further details.
There are some 2,500 mosques and prayer halls in France. Of those, around 120 are considered to be preaching radical Salafism, a strict Sunni interpretation of Islam.
It comes after recent terrorist attacks in the country have raised questions about security failures, as well as the foreign funding of many mosques.
Speaking about such funding concerns, Cazeneuve said that authorities are working on a French foundation for Islam which would guarantee complete transparency in financing mosques "with rigorous respect for secular principles."
Also on Monday, French Prime Minister Manuel Valls said it will be "increasingly hard" for Paris to guarantee the freedom of Islam, noting that despite the country's ties to the religion, a "terrible poison" of extremism is spreading.
"If Islam is not helping the Republic to fight against those who undermine public freedoms, it will be increasingly hard for the Republic to guarantee this freedom of worship," Valls wrote in a long essay in Le Journal du Dimanche.
There are plans to create a foundation to help finance the construction and administration of mosques across France, Anouar Kbibech, the head of the French Muslim Council, said on Monday.
"Radical" benefactors would be denied access to the organization, which will be sponsored by companies in the halal food sector, Kbibech stressed.
Cazeneuve's statements come less than one week after a French priest was murdered in an attack by Islamic State (IS, formerly ISIS/ISIL) "soldiers" in the Normandy village of Saint-Etienne-du-Rouvray.
You can share this story on social media: