'Asylum seeker' stabs Belgian priest who let him in to shower, but refused to give cash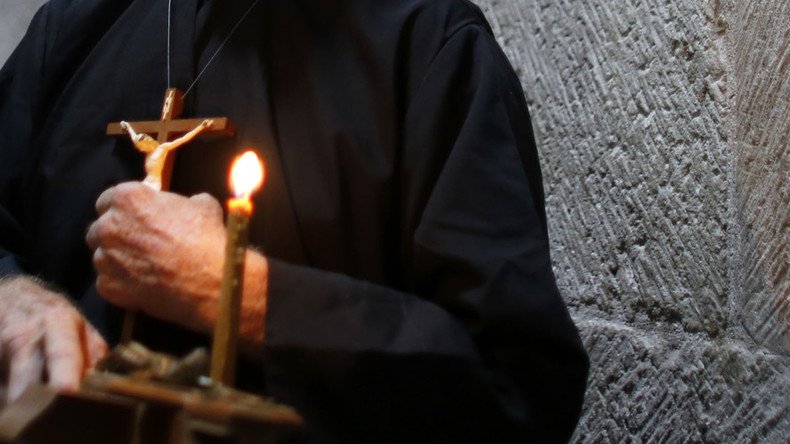 A Belgian priest has been attacked by a man who claimed to be an asylum seeker. The perpetrator first asked Father Jos Vanderlee if he could take a shower and then demanded money. When the priest said no, the man stabbed him.
The incident took place in the small town of Lanaken, Limburg province, on the Belgium-Netherlands border on Sunday. The man who presented himself as an asylum seeker knocked on the door of Vanderlee's home, asking for a shower and help.
"He said he was going to ask asylum in the Netherlands," a spokesman for the Limburg prosecutor, Bruno Coppin, later said, as cited by Het Laatste Nieuws newspaper.
However, after showering, the man demanded money from the 65-year-old priest. When Vanderlee refused to hand over cash, he was attacked with a knife.
"Pastor Vanderlee defended himself [from the attacker] and suffered injuries to his hands," says Coppin, adding that the attacker fled the scene.
The priest was transported to hospital and received surgery.
"He is not in danger," Coppin added.
Vanderlee has served as a priest for 40 years and is responsible for eight parishes in Lanaken.
Police and prosecutors refused to link the attack with Islamic State (IS, formerly ISIS), Belgian media reported, adding that that the suspect is not a resident of the local refugee center.
"Despite the fact that we are shocked, we must stress that this incident can't be linked to terrorist acts at this stage of the investigation," Lanaken Mayor Marino Keulen said.
READ MORE: 'He tainted Islam': Muslim community refuses to bury French priest killer
Europe has been recently shaken by a murder of Father Jacques Hamel in Saint-Etienne-du-Rouvray in northern France by two purported IS militants. The 85-year-old was killed on Tuesday when his throat was slit during a hostage situation at the local church. French police killed the IS-inspired attackers, Adel Kermiche and Abdel Malik Petitjean, as they tried to flee the 17th-century Catholic church.
The attack was heavily-criticized by Muslim groups across France and abroad. Mohammed Karabila, a leader at a local mosque in Saint-Etienne-du-Rouvray told Le Parisien newspaper that Muslims are refusing to bury one of the attackers, saying he had put a stain on Islam.
On Sunday, Muslims attended Catholic Mass in churches across France and beyond to pay tribute to the slain priest.
You can share this story on social media: