German magazine mocks Erdogan with 'penis cover' as he vows to drop insult lawsuits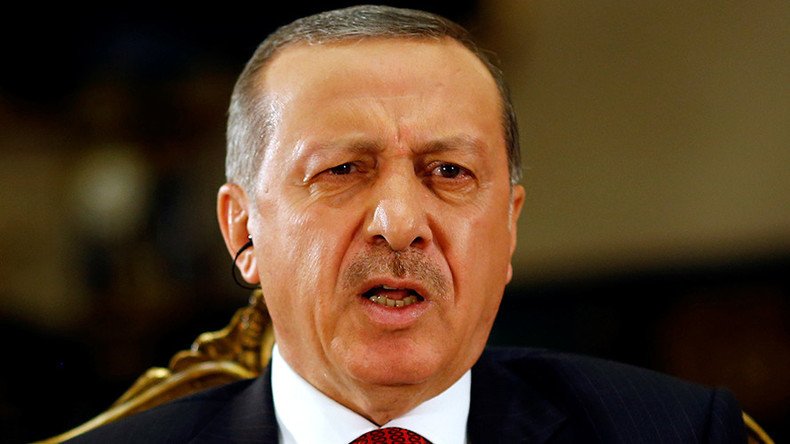 A German satirical magazine has mocked Turkish President's post-coup crackdowns by publishing a cover showing a sausage photoshopped over his groin area. The daring issue comes after Erdogan said he is dropping all insult-related lawsuits.
"Erdogan's stressed: Even his penis is staging a putsch," reads the front page of Titanic, a German satirical magazine based in Frankfurt. The cover itself features Turkey's strongman with a massive sausage photoshopped over his private parts.
On its Facebook page, the magazine has advised fans to buy the August issue before "the Chancellor Tayyip Merkel bans Titanic."
The audacious issue came after the Turkish president announced he is withdrawing all lawsuits against people charged with insulting him.
"I am going to withdraw all the cases regarding the disrespectful insults made against me," he said on Friday as cited by AFP. Erdogan added it was a one-off gesture of goodwill, inspired by the feelings of popular unity in the wake of the attempted coup.
Earlier this year, some 2,000 people faced such prosecutions. In Germany, satirists launched a number of performances targeting Erdogan's political style and inclination to autocracy.
In March, the NDR channel aired a satirical piece titled "Erdowie, Erdowo, Erdogan," a broadcast that added fuel to uneasy Turkey-Germany relations. Ankara summoned the German ambassador to Turkey and demanded the video should be deleted.
Later in the year, comedian Jan Bohmermann read a so-called "poem" on his public broadcast show, claiming Erdogan was into "bestiality" and "child porn" while "kicking Kurds."
This time, German government said the poem has been "offensive" and ordered Bohmermann to be prosecuted under a rarely enforced law.
The audacious piece of satire by Titanic comes amid a full-scale crackdown on people allegedly involved in the failed coup attempt on July 15. Dozens of senior army officers have been arrested, while over 18,000 people have been detained across the country.
'Focus on cat videos': German comic targeted in free speech row with Erdogan suspends TV show

In the meantime, Ankara insists that countries "being so worried about the fate of the putschists cannot be our friends." On Friday, Erdogan said in his defiant speech: "Some people give us advice. They say they are worried. Mind your own business! Look at your own deeds."
Earlier in the day, he accused General Joseph Votel, head of the US Central Command, of siding with the plotters after he told the Aspen Security Forum in Colorado: "We have certainly had relationships with a lot of Turkish leaders, military leaders in particular."
"Is it up to you to decide on this? Who are you? Instead of thanking the state for repelling the coup attempt, you stand with the coup plotters," Erdogan said, advising Votel to "know your place."
President Erdogan and his government say Fethullah Gulen, a Turkish opposition cleric in self-exile in US, was behind the putsch, something that the latter denies.
You can share this story on social media: