Russian military 'serious adversary' after making 'impressive' progress – top NATO commander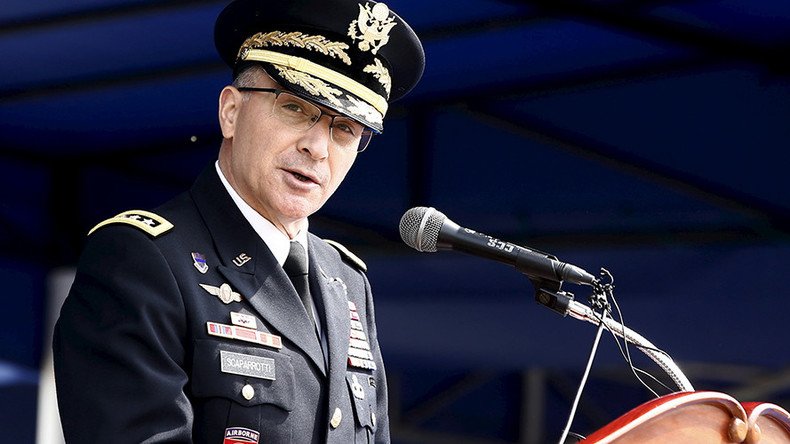 The Russian military has significantly progressed in recent years to become "a very serious adversary" to the US and NATO, the bloc's top commander has said, noting Russia's army is now more professional, faster-learning, and more agile at thinking.
"Russia is back," General Curtis Scaparrotti, NATO's Supreme Allied Commander Europe (SACEUR) and head of US European Command, told the Aspen Security Forum on Friday.
Run by the renowned Aspen Institute to discuss US national security issues, this year's forum featured top military brass, including US Army Chief of Staff Mark Milley, NSA Director Mike Rogers, and Commandant of the US Marine Corps Robert Neller.
"I'm impressed with the fact that they've taken a force that really had some serious problems only a few years ago," General Scaparrotti said, referring to the large-scale military reforms and re-armament program that have been taking place in Russia in recent years.
"You can see that they're learning, much of their doctrine is based on the early Soviet doctrine. They are pretty agile of thinking, if you look at the recent writings that their officers are doing. So they are actually taking a look at the world around them as they see it and adjusting their doctrine off that basis, which is impressive."
The 2014 edition of Russia's military doctrine lists NATO expansion as a primary security challenge. Moscow has repeatedly said the bloc's build-up at Russia's doorstep in Eastern Europe will not go unanswered.
"And they're clearly modernizing. They've reorganized their force, they've made it smaller, so it could be more professional," Scaparrotti said.
"When you look at the weapons systems, etc…. They've been watching us… They've fired long-range precision missiles from submarines, from surface ships, from medium bombers, all at Syria," he added, referring to Russia's anti-terrorist campaign in Syria. He believes the Russian military did not have to launch its missiles from such distance, but did so for training purposes and as a show of force.
"You know, we have an adversary here that we have to take very seriously."
Relations between Russia and NATO remain tense amid increased NATO activity in Eastern Europe and on Russia's borders that forces Moscow to adapt its military strategy to a new security situation.
In early July, NATO agreed to deploy four additional battalions to the Baltic States and Poland on its summit in Warsaw. This buildup was a "direct" response to "Russian actions in Ukraine," NATO Secretary General Jens Stoltenberg said on July 13.
The Alliance has significantly increased its activity on Russia's doorstep by holding massive drills on its borders. NATO also continues to build an anti-missile defense system in Europe.
Moscow deems these moves "are superfluous, counterproductive, they are confrontational, essentially weakening pan-European and regional security while bringing us back to the safety models of the Cold War era," as the Russian Envoy to NATO Alexander Grushko, put it at the last meeting of the Russia-NATO Council on July 13.
Defense Minister Sergey Shoigu recently announced that a task force was being created along Russia's borders with Europe to counterbalance NATO's massive military buildup there.
You can share this story on social media: